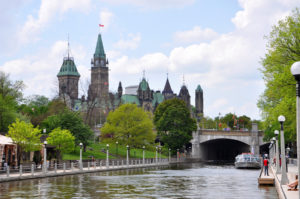 The Association for Preservation Technology International (APT) and National Trust for Canada embraced the historic opportunity of Canada's 150th anniversary to jointly organize a conference, CAPITALizing on HERITAGE, in the nation's capital from October 11 to 14.
Conservators, architects, engineers, heritage planners, craftspeople, policy-makers, construction managers, cultural landscape specialists, and community leaders from more than 20 countries will come together to showcase the best in technology, policy, and means and methods for preserving and renewing heritage buildings, districts, and engineering works.
The event has seven conference tracks: Three technical and cultural/community sessions and one seminar will explore the intersection of policy and technical issues. Topics include:
"Documentation and Diagnostics–Understanding Historic Places;"
"Design–Planning the Conservation of Historic Places;"
"Delivery–Intervening in Historic Places;"
"Policy and Practice;"
"Canada 150–Indigenous Heritage, Diversity, and New Directions;"
"Integrating Old and New–Buildings, Districts, and Landscapes;" and
"Regeneration–Community, Economics, and Equitable Places."
Speakers like philosopher John Ralston Saul and architects Edward Mazria, Eladia Smoke, Alfred Waugh, Janna Levitt, and Calvin Brook will headline the conference. The sessions will be held at Westin Ottawa Hotel, Château Montebello, and Carleton University. Pre-event workshops will also be conducted on the following.
"Big Sticks–Log and Timber Frame Conservation;"
"Masonry/Mortars, Digital Tools for Documentation;"
"Punching Above Your Weight: Fundraising for Your Historic Place;"
"Downtowns Rising: Strategies for Downtown Renewal;"and
"Building Strength: Regenerating Places of Faith."
The National Capital Region is rich with historic places. Preservationists will get the opportunity to have a first-hand experience of ongoing projects. They can choose from 15 full- and half-day field sessions, including Canadian Conservation Institute and Parks Canada Labs, Carleton Immersive Media Studio, Parliament Hill, and Chaudière Island.
APT is also organizing a student engineering competition. The competition will challenge students by presenting them with real-world issues affecting historic arches, while offering them a glimpse of the multibillion-dollar masonry conservation field.
The conference is intended to capitalize on the rich blend of history, place, ritual, and expertise synonymous with Ottawa.