Ottawa hospital expansion to create hub for co-ordinated care
by sadia_badhon | July 9, 2019 10:45 am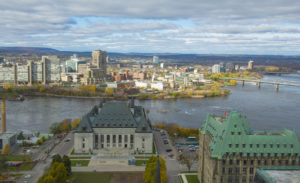 The Children's Hospital of Eastern Ontario[2] (CHEO) in Ottawa will see the addition of a new six-storey state-of-the-art children's treatment centre on the hospital's main campus.
The Ontario government[3] will invest $105 million over six years for the construction of the 21,780-m2 (234,440-sf) building that seeks to create better outcomes and opportunities for children and youth with special needs.
The new facility will bring together critical services like children's mental health, early childhood programming, and autism services currently spread across eight locations under one roof, creating a hub for co-ordinated care. It will also help address capacity issues for children waiting to access programs.
Endnotes:
[Image]: https://www.constructioncanada.net/wp-content/uploads/2019/07/bigstock-Aerial-View-Of-Supreme-Court-O-232476649.jpg
Children's Hospital of Eastern Ontario: https://www.cheo.on.ca/en/index.aspx
Ontario government: https://www.ontario.ca/page/government-ontario?_ga=2.242138242.107878249.1562602581-567822714.1559050286
Source URL: https://www.constructioncanada.net/ottawa-hospital-expansion-to-create-hub-for-co-ordinated-care/
---