Ottawa building proves its zero carbon performance
by nithya_caleb | June 22, 2018 12:00 am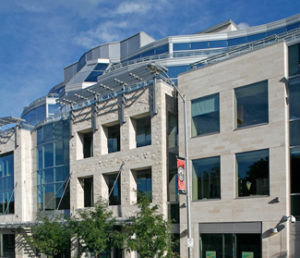 The Canada Green Building Council[2] (CaGBC) has awarded a Class A, commercial office building[3] in Ottawa the country's first Zero Carbon Building[4] (ZCB) – Performance certification.
ZCB – Performance certification requires buildings to demonstrate they did not generate any carbon emissions over a 12-month period of operations, with performance verified annually. To earn this certification, the building manager, Bentall Kennedy[5], had to evaluate energy use holistically, including impacts on peak electricity demand, and determine the greenhouse gas (GHG) emissions associated with structural and envelope materials.
The building achieved Gold for Existing Buildings certification under the Leadership in Energy and Environmental Design[6] (LEED) rating program in 2016, and through continued energy efficiency and carbon reduction measures, was able to demonstrate a balance of zero carbon emissions for this certification.
Among the highlights contributing to the building's zero carbon certification are:
its near total use of electricity as the primary energy source;
the establishment of an advanced building automation system; and
the use of efficient lighting and control systems throughout the property.
Electricity from Ontario's low-carbon grid accounts for 95 per cent of the building's energy use. The building is also very efficient, performing better than 92 per cent of comparable buildings. Additionally, Bentall Kennedy is nearing completion on a costed plan to replace equipment and phase out the remaining use of natural gas in the building.
"This project clearly demonstrates that LEED certified buildings are great candidates for a zero carbon retrofit taking performance to the next level," said Thomas Mueller, CEO of CaGBC.
Endnotes:
[Image]: https://www.constructioncanada.net/wp-content/uploads/2018/06/100_murray_b.jpg
Canada Green Building Council: https://www.cagbc.org/Default.aspx
office building: https://www.cagbc.org/Archives/EN/CaGBC_Green_Building_Case_Studies/100_murray_street.aspx
Zero Carbon Building: https://www.cagbc.org/CAGBC/Zero_Carbon/The_CaGBC_Zero_Carbon_Building_Program.aspx#performance
Bentall Kennedy: https://www.bentallkennedy.com/
Leadership in Energy and Environmental Design: https://www.cagbc.org/CAGBC/LEED/CAGBC/Programs/LEED/_LEED.aspx?hkey=54c44792-442b-450a-a286-4aa710bf5c64
Source URL: https://www.constructioncanada.net/ottawa-building-proves-its-zero-carbon-performance/
---