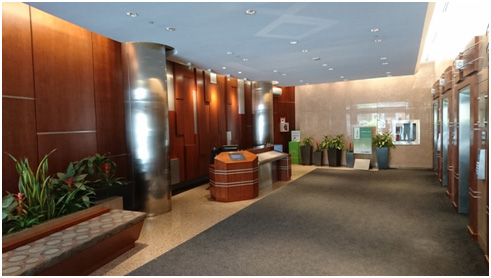 An office tower at 270 Albert Street in Ottawa has become Canada's first commercial project certified under Leadership in Energy and Environmental Design (LEED) v4. Earning Gold under Building Operations and Maintenance: Existing Buildings, the structure was first constructed in 1975, and has undergone a number of major retrofits over the years. It stands 14 storeys high, and comprises 15,236 m2 (164,000 sf).
The retrofit project has landed the tower an energy use intensity (EUI) rating of 20 ekWh/sf and an Energy Star score in the 91st percentile for its peer group. When audited in 2013, the building was already performing well, and its energy efficiency has been improved by this retrofit by an additional 25 per cent.
The project was asset-managed by Blackwood Partners and property-managed by Blackwood Partners Corporation, in close partnership with LEED consultants WSP Canada. It was completed within one year.
Although 270 Albert Street was the first, it is not the only project to earn LEED certification during the third-quarter of 2016. Others include:
the Halifax Central Library, which earned Gold for its vegetated roof, rainwater collection and reuse system, and active four-pipe chilled beam system;
Kwayatsut, a multi-unit social housing development in Vancouver, also earning Gold for its easy access to natural light and air, bee colonies in planted areas, and high energy performance building envelope; and
120 and 130 Adelaide West in Toronto, which earned Gold for Existing Buildings for its retrofit focusing on sustainability, health, and wellness.
In the third quarter of 2016, LEED v4 registrations grew to a total of 32 registrations and two certifications, and should continue to increase given the closing of registrations under LEED 2009. As of September 30, there have been 40 LEED-certified buildings, 98 LEED Silver-certified, 111 Gold-certified, and 20 Platinum-certified this year.