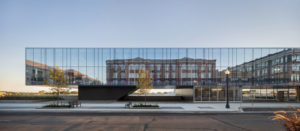 The Laurier Brantford YMCA by CannonDesign seeks to revitalize the City of Brantford, Ont., as a hub for community health, recreation, and wellness.
Located at the confluence of a dynamic city edge, the centre is conceived as an integrated design offering the public a unified and cohesive experience.
The design focuses on three themes—memory, movement, and landscape.
"This project marks the heritage of Brantford with purposeful touches like accenting the building's glazing pattern along the Colborne Street façade with superimposed plot lines of mullions to retain the rhythm of the streetscape the YMCA replaced," said James Lai, project architect for CannonDesign. "And, at the same time, the programming, partnerships and energy this building makes possible all point to a more dynamic future for the city."
The 11,148-m2 (120,000-sf) facility includes:
an aquatics centre;
a childcare area;
five inclusive change rooms;
a youth zone for recreational, social, and leadership development programs;
a double gym with retractable stadium seating and a supporting first aid and athletic therapy space;
cardio and weight training areas;
a single gym space for other recreation opportunities and programs;
health intake consultation rooms for specialized community-based health care programs;
three studios for group fitness classes;
multi-purpose spaces for social, educational, and cultural programming; and
a Wilfrid Laurier University student lounge.