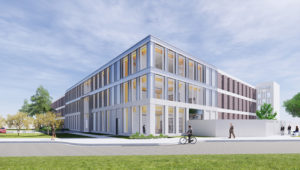 Construction has begun on Carleton University's all-new Engineering Design Centre, Ottawa, Ont., for its Faculty of Engineering and Design (FED).
The $16-million, 2323-m2 (25,000-sf) facility will connect to Carleton's existing Mackenzie Building and provide dedicated space for undergraduate students as they collaborate on fourth-year capstone design projects.
Designed in a joint venture by Diamond Schmitt Architects and KWC Architects, the three-storey structure will feature a maker space, design studios, workshop bays, central atrium, and meeting and lounge spaces.
"The best learning environments inherently combine both theory and practice," said Larry Kostiuk, FED Dean. "By investing in this newly established space for hands-on education, we look to expand Carleton's longstanding commitment to experiential learning."
FED is keen to collaborate with the community on this project. Alumni and partners can help enhance the long-term vision for the building by developing new collaborative opportunities and adding leading technology so students and community can work together on shared challenges, the university said in a press release.
The building's interior has been designed to be open and inviting, with easily reconfigurable furniture and both formal and informal meeting space that encourages students to connect with one another. Design rooms, which will serve classroom-like functions, will be outfitted with presentation technology, allowing for everything from small group discussions to formal meetings and presentations.
The Engineering Design Centre seeks to serve as an example of Carleton's continued leadership in accessibility and sustainability. The entire building has been designed to be inclusive and accessible throughout, including barrier-free clearances for all workshop bays that meet or exceed the Ontario Building Code (OBC).
The facility will also incorporate energy-efficient building systems and strategies for electricity conservation and sustainability. The building itself will be instrumented and have the controls needed for graduate-level research to explore and test conservation and sustainability ideas.
The Engineering Design Centre is expected to open its doors in fall 2021.