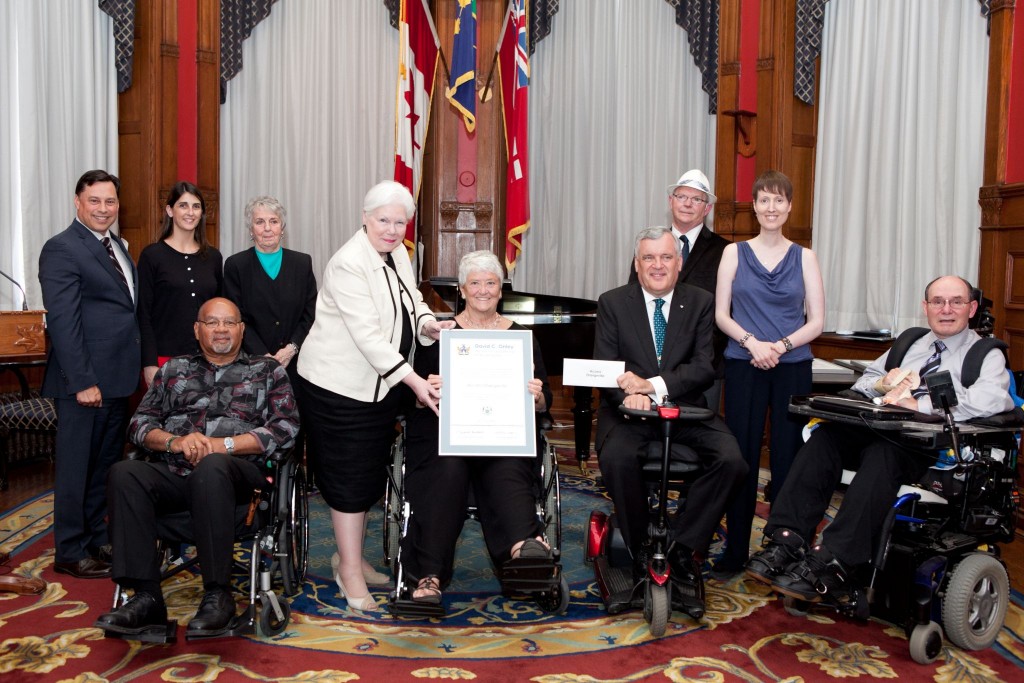 The inaugural David C. Onley Award for Leadership in Accessibility honoured Access Orangeville for going above and beyond to improve accessibility for disabled people.
The Ontario provincial award recognizes organizations or individuals who have demonstrated outstanding leadership in creating awareness of accessibility and disability issues in their communities. The awards were presented by current Lieutenant Governor Elizabeth Dowdeswell, former Lieutenant Governor David C. Onley, and minister of economic development, employment, and infrastructure Brad Duguid.
Access Orangeville received the Role Model/Champion Award for transforming the town into a barrier-free community—something other municipalities across Ontario can aspire to. The organization created a program to help residents and businesses with the cost of purchasing a portable suitcase ramp, which allows people with mobility issues to enter and exit buildings more easily. They also installed countdown signals at busy intersections and added painted curb cuts in the downtown core for better visibility. Renovations to the Opera House were also made to allow people with disabilities to have equal access to arts and entertainment programs.
"I want to congratulate Access Orangeville for receiving the 2015 David C. Onley Award for Leadership in Accessibility," said Duguid. "This committed group of accessibility champions has transformed Orangeville into a thriving and inclusive community, where Ontarians of all abilities can live, work, and play. They inspire us all, including those who plan, design, and build our cities and towns, to embrace innovation and creativity as we achieve our vision of an inclusive, fair, and accessible society."
Three other individuals were recognized:
Dr. Kathryn Church of Toronto, known for her outstanding leadership in accessibility and inclusivity, particularly mental health issues;
Sarah Dinsdale of London received the Youth Leadership Award for her work with children, youth and adults with disabilities; and
Lois Davies of Aurora, for creating a positive and accessible work environment in York Region while working to find new opportunities to build more inclusivity.