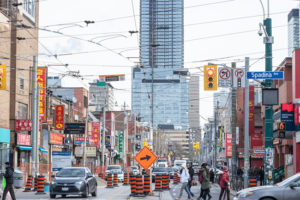 The Ontario government has closed all non-essential construction work in the province to help contain the spread of COVID-19.
Only critical construction projects will continue, including industrial projects such as refineries and petrochemical plants and infrastructure projects such as new hospitals, roads, and bridges. New starts in residential projects will stop, while residential construction that is near completion will continue.
"We are facing a critical moment in the fight against COVID-19 and we must do everything in our power to keep everyone safe and healthy and prevent our health care system from being overwhelmed," said Premier Doug Ford. "Everyone must do their part to stop the spread and flatten the curve. If you are not an essential business, you need to close your doors, work from home if possible and play a role to help contain this outbreak. This is a matter of life and death."
Business-owners with questions concerning their essential business status are encouraged to call the Stop the Spread hotline at 1-888-444-3659.
"The decision by the government of Ontario to largely shut down private sector industrial and commercial construction in the province is a difficult but necessary one, given the growing threat of the COVID-19 pandemic," said Patrick Dillon, business manager of the Provincial Building and Construction Trades Council of Ontario.
Since the Premier declared a state of emergency for Ontario, the construction industry has largely remained open, with the exception of individual contractors choosing to shut down operations, and individual workers choosing to self-isolate and be with their families.
"Based on Building Trades surveys, to-date, there have been no confirmed reports of construction workers being infected with COVID-19 in the workplace, which speaks to a pretty responsible contractor base, a diligent workforce, and added enforcement," explained Dillon.
"There have been some improvements to workplace hygiene and sanitary conditions, but a lot more work needs to be done, to bring existing jobsites to a standard that would be acceptable. Stronger enforcement is key in that regard, and we welcome the recent increased enforcement measures," he said.