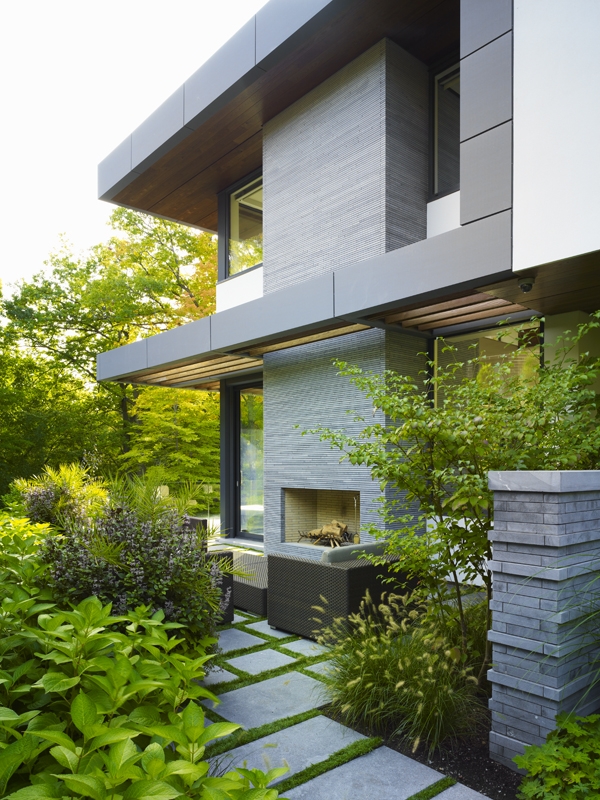 A large, two-storey dwelling just outside of Toronto, designed by Hagy Belzberg, is recognizable not only for its design features, but also for its landscape architecture.
Through the home's back doors, a covered terrace becomes an extension of the living area, featuring a fireplace and gathering space. The backyard slopes into a deep ravine with terraces horizontally layering the lot, dividing it into sections. Two staircases lined with stainless steel woven-wire mesh provide a passage down to the ravine.
Mark Hartley, owner of Toronto-based landscape architecture and garden design consultancy, MHLA Inc., began work on the project in 2009. When the homeowners purchased the 0.4-ha (1-acre) lot, the presence of 100-year-old deciduous trees was one of the attracting features. With intentions of restoring the ravine and preserving the natural beauty of the woodlands, the design team was able to spare a few rare plants and native trees on the property. The contractors completed restorative planting as well, using native plants and trees that will eventually take over when the older trees fade with time.
The design called for visually enhancing the existing landscape surrounding the home with thousands of plants, including ornamental plants, and hedges for privacy. However, greens and old trees were not the homeowners' only desire. They also wanted the backyard garden to be split into a series of terraces above the ravine and woodland.
As the property has a steep descent, the backyard required staircases going down to each level. The design crew was faced with a challenge of creating two sets of stairs, consisting of hundreds of steps each that would not only be safe and functional, but also complement the surrounding environment. Built to match the home, one set of limestone staircases stretches from the house terrace to the pool and then to the lower terrace. The other set leads from the house terrace directly to the lower one, where occupants can enjoy the woodlands.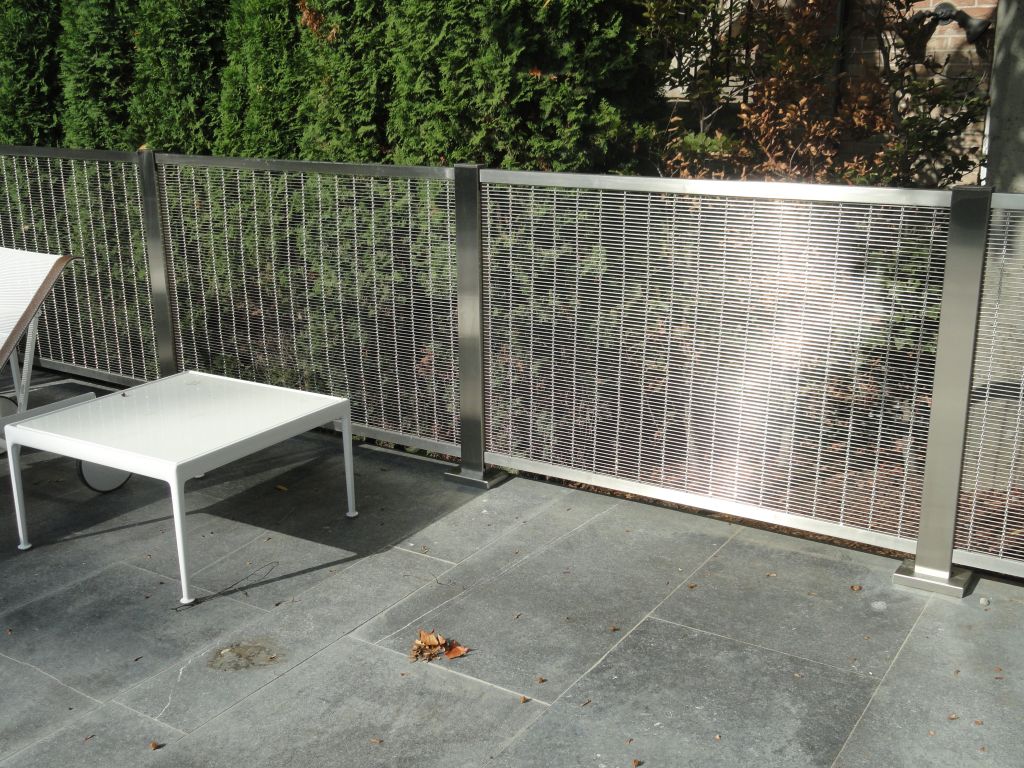 While railings were needed to line each step to ensure the staircases were safe, the homeowners were concerned about implementing a design that would work with the architecture of the home. As a result, stainless steel woven-wire mesh railings were specified.
The railings added esthetic appeal, functionality, and enhanced safety to the backyard. In applications including landscapes, bridges, walkways, guardrails, and stairwells, the mesh holds strong to reduce the potential for falls. The railings feature more open than closed area, which makes them nearly transparent, yet they remain sturdy. The material also meets Ontario Building Code (OBC) requirements for the stairs and the pool.
Approximately 67 m (220 ft) of railing, or 61.3 m2 (660 sf) of woven-wire mesh, was installed and these railings have an estimated lifespan of 50 to 100 years, in comparison to other railing materials, such as wood, that may require replacement after a decade.

Control the content you see on ConstructionCanada.net!
Learn More.