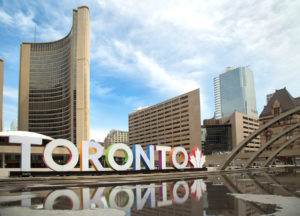 Ontario is investing in Toronto's rental housing market to encourage the creation of more affordable rental housing.
The province's housing minister Peter Milczyn has announced funding for municipalities to provide rebates to developers who want to build high-rise, mid-rise, and townhouse rental housing. The City of Toronto will receive $60 million to encourage the construction of complete communities that are accessible, livable, walkable, and close to transit and other services.
Milczyn also announced the names of developers selected to convert surplus provincial land in Toronto into vibrant, mixed-income communities for approximately 2150 families.
Dream, Tricon, and Kilmer Group will turn two vacant lots in the West Don Lands into mixed income rental homes for nearly 1450 individuals and families, including retail space and a community hub.
Canadian Real Estate Investment Trust (CREIT) and Greenwin Inc. will transform a site between Grenville and Grosvenor streets into a family-friendly mixed income community, with approximately 700 rental units, retail space, and a daycare.
Each site is close to transit and employment, and will have 30 per cent of the units dedicated to affordable housing.
"It is important that people in Ontario have an affordable place to call home, regardless of their housing needs or where they live in Toronto. More rental housing means more options when looking for a home, all while creating vibrant communities," said Milczyn.
The funding is part of a five-year program to rebate up to $125 million in development charges.