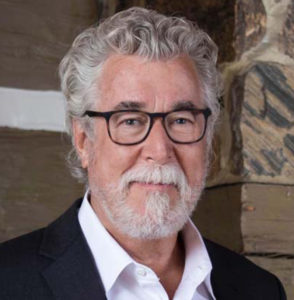 The Canadian Society of Landscape Architects (CSLA) has honoured George F. Dark, OALA, FCSLA, FASLA, with the 2018 Governor General's Medal in Landscape Architecture. He is noted for his commitment to design excellence and outcomes that address the needs of the public.
The highest honour bestowed on a landscape architect by CSLA, the medal is intended to recognize exceptional individuals whose lifetime achievements and contributions to the profession have had a unique and lasting impact on Canadian society.
Dark is an urban designer, landscape architect, and member of both the College of Fellows of CSLA and the Council of Fellows of the American Society of Landscape Architects (ASLA). Dark has more 40 years of professional practice experience and is currebntly senior design partner at Urban Strategies.
According to Nastaran Moradinejad, CSLA president and chair of the 2018 Governor General's Medal in Landscape Architecture jury, "We are pleased to award this honour to George F. Dark, who sees potential where others cannot, builds the foundations of glorious landscape architecture work, mentors the upcoming generation of landscape architects, contributes to the charitable and non-profit sector, and promotes the goals of the profession and society through his participation on boards and design panels."
Dark has led many complex and controversial works in Canada, the United States, and elsewhere, with a focus on city plans, university master plans, and strategic plans concerned with the future of vast regional landscapes. A statement released by CSLA described him as one of the most effective communicators and strategists in the profession today and said he is equipped with a unique set of skills which allow him to see the potential in any landscape, build consensus with policy makers and stakeholders, collaborate with other disciplines, and facilitate solutions for many of the most complicated and important projects facing the profession of landscape architecture.
Dark will receive his award at a ceremony to be held at Government House in Winnipeg on September 13, 2018.
He is very active in the charitable and not-for-profit sectors having served as board chair of the Evergreen Foundation of Canada for more than 12 years while creating Brickworks in Toronto, leading to his appointment as chairman emeritus of the organization. He is currently chair of the Social Innovation Foundation at the Centre for Social Innovation (CSI) in Toronto and was appointed by the Province of Ontario as a trustee of the McMichael Canadian Collection Gallery. Dark was founding chair of the Academic Advisory Council of the Willowbank School of Restoration Arts.