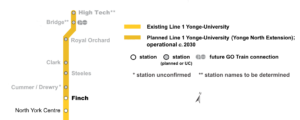 The Ontario government has released a request for qualifications (RFQ) to seek teams interested in building the Yonge North subway extension tunnels under the advance tunnel contract.
The Yonge North subway extension will extend the Toronto Transit Commission's (TTC's) Line 1 service, north from Finch Station to Vaughan, Markham, and Richmond Hill; and will include five new stations along the approximately 8-km (4.97-mi) extension.
The extension will cut the distance travelled by personal vehicles by 4,785 mi (7,700 km) during rush hour and reduce greenhouse gas (GHG) emissions by more than 4,800 tonnes (4,724 tons) each year.
The advance tunnel contract includes designing the tunnels and building the launch and extraction shafts which will be used for the tunnel boring machines. It also includes the design and construction of headwalls for stations and emergency exit buildings. To deliver the new subway as quickly as possible, tunnelling will begin first, followed by a separate contract to build the stations, rail, and systems.
Early work on the Yonge North subway extension is currently underway at Finch Station, where workers are making upgrades to accommodate the future subway service. Once complete, the extension will accommodate over 90,000 daily trips, connect more people to jobs, and bring faster transit to more communities across York Region and Toronto.
Companies interested in bidding on this tunnelling contract must register with www.merx.com to download the RFQ. Infrastructure Ontario (IO) and Metrolinx will evaluate RFQ submissions and shortlist teams to be invited to respond to a request for proposals.
"The Yonge North subway extension is a critical project for York Region that will provide much-needed access to reliable public transit and connect more people to major employment centres in Markham, Vaughan, and Richmond Hill," says Caroline Mulroney, minister of transportation. "Together with our partners in Ottawa, York Region, and the City of Toronto, we're demonstrating real progress to make this project a reality and delivering on our plan to build a strong Ontario."