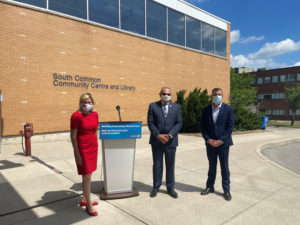 The Ontario government is investing more than $45 million to support the reconstruction of the South Common Community Centre and Library in Mississauga.
The new community centre will have expanded indoor and outdoor fitness spaces, an aquatics centre, and a new gymnasium. This is in addition to a new 1484-m2 (16,000-sf) library and multi-purpose rooms for the Mississauga community.
"I understand the impact having a safe place to learn and play has on local residents and that is why our government continues to support projects like this one, ensuring families and residents can enjoy sports, arts, and recreations for generations to come," said the Honourable Kinga Surma, Ontario's Minister of Infrastructure.
"Our recreation and library facilities play an important role in creating healthy, vibrant, inclusive and connected communities," said Bonnie Crombie, City of Mississauga Mayor.  "I am so pleased our application for funding this wonderful project resulted in a positive outcome for Mississauga and its residents."
Planning and consultation will begin early next year.