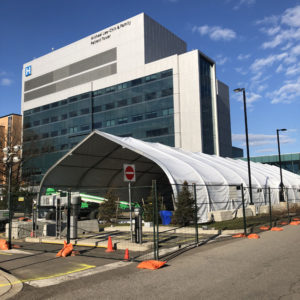 Joseph Brant Hospital, Burlington, Ont., is building a temporary pandemic response unit to expand the hospital's bed capacity in preparation for the anticipated surge of COVID-19 patients.
This modular structure is being built on the hospital grounds and will provide 93 additional beds for patients with COVID-19.
The tensile membrane structure will be built with aluminum supports with durable, white material wrapped over them, according to CBC news. The $2-million structure is to be built in just 14 days by BLT Construction.
This 766-m2 (8250-sf) hospital structure was brought from Calgary by a rush team shipment.
"The pandemic response unit is being built as a critical part of our pandemic response plan to meet the heightened care needs of our community and ultimately save lives," said Eric Vandewall, president of Joseph Brant Hospital. "We are doing everything we can to care for the people of Burlington to prepare for these unprecedented times."
The pandemic response unit is a collaboration between Joseph Brant Hospital, community-based health care providers, the City of Burlington, and Halton Region.