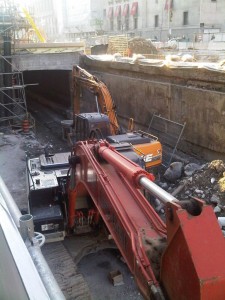 The Ontario government says it will continue to invest in the province's roads, bridges, and other transportation infrastructure.
The commitment is important for the long-term success of the local construction industry.
"Expert studies have proven the economic impact of infrastructure spending—it is important to recognize that underinvestment in infrastructure could easily hurt our economic prospects and job growth," said Andy Manahan, executive director of the Residential and Civil Construction Alliance of Ontario (RCCAO).
The revenue from higher licensing and vehicle registrations will go toward the government's 10-year "Building Together" infrastructure plan, and is part of the provincial budget's three-year $35 billion infrastructure spending commitment.
Manahan explained public opinion surveys indicate acceptance of the plan and higher user fees when revenues are targeted toward infrastructure development.
According to a December 2011 report by RiskAnalytica, Ontario's average real gross domestic product (GDP) growth could rise by more than one per cent annually over the next 50 years if the increases outlined in Ontario's decade-long plan continue. A full copy of the report is available at www.rccao.com.