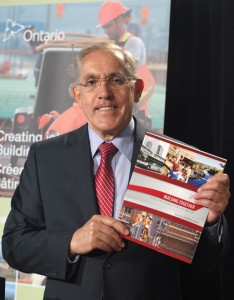 The Ontario Ministry of Infrastructure has released "Building Together," a long-term infrastructure plan to create jobs, strengthen the economy, and help communities meet the needs of local families.
Key investment priorities will support:
• getting Ontario's goods to market with better highways, bridges, and border crossings;
• giving commuters fast, affordable, and environmentally sound transit options;
• educating a strong and innovative workforce;
• ensuring healthier lifetime outcomes; and
• helping Ontario's rural areas, regions, and cities.
"This plan continues to build on the province's infrastructure investments by providing us with a road map for the next decade," said Bob Chiarelli, infrastructure minister. "We know that infrastructure is an asset worth investing in and maintaining for the good of everyone."
"Building Together" investments will target key modern infrastructure projects. Strategic investments in these areas will ensure the province remains competitive in the global economy and will help as the population grows, ages, and diversifies.
"Through 'Building Together,' the province expects to continue significant investments in public infrastructure over the next decade, and will begin by investing more than $35 billion over the next three years, including $12.8 billion in 2011–12," said a Ministry of Infrastructure spokesperson. "These investments are expected to create and preserve over 300,000 jobs."