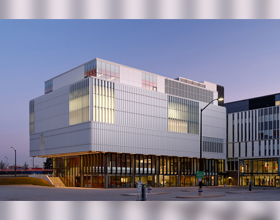 Sheridan College's Hazel McCallion Campus Phase 2A (HMC2A) in Mississauga, Ontario, is an expansion project designed to appeal directly to the needs of its students.
The 6503 m2 (70,000 sf) HMC2A, designed through a joint venture between Montgomery Sisam Architects and Moriyama & Teshima, connects directly with another student learning commons building, HMC2, and can be accessed from a shared portico at grade and across two upper levels. A series of lounge and study spaces, club rooms, food outlets, and games areas feed into and off of a transparent double-height atrium.
The administrative suites, fitness studios, gymnasium, and running track located on the third and fourth floors feature a more modest fenestration system to prevent solar glare, diffuse natural light, and offer views out to the campus and city core.
Like HCM2, HMC2A responds to the needs and goals of the larger campus and Civic Centre, such as animating the public realm with outdoor spaces for resting, gathering, and playing, improving the student college experience. Open and covered walkways, a patio, and outdoor turf field complement the angular design of the quad and offer the option for indoor social activities to spill out into the campus.
To ensure the new hub met students' needs and expectations, and contributed to a sense of community, the architectural team purposely engaged students in the design process to help them shape the campus and provide inspiration for the final design.