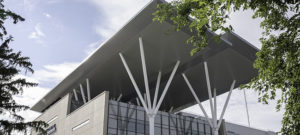 One of the first Zero Carbon pilot projects, the Joyce Centre for Partnership and Innovation at Mohawk College, Hamilton, is the first to achieve both the Zero Carbon Building (ZCB) Standard and Performance certifications by the Canada Green Building Council (CaGBC).
Introduced two years ago, the made-in-Canada ZCB Standard was designed to guide the industry in building to zero and help the country meet its international emissions targets by 2030. The standard has shifted the green building conversation to focus on carbon as its key performance metric. A carbon metric recognizes the true climatic impact of a building and focuses on aspects not considered by energy efficiency, including the importance of selecting low-carbon construction materials and energy sources for building operations.
The standard assures a project has been designed according to zero carbon building requirements while the performance certification demonstrates the project achieved zero carbon emissions over one year of operation as required by annual verification.
The Joyce Centre's design reflects a strong focus on zero carbon, with an innovative high-performance building envelope that minimizes heating and cooling demand, an all-electric geoexchange system, and a rooftop photovoltaic (PV) system, CaGBC said.
The careful, integrated design and construction process paid off and building operations have demonstrated better-than-expected performance, enabling the project to achieve ZCB-Performance certification.
"Zero carbon buildings, like the Joyce Centre at Mohawk College, represent a great opportunity for cost-effective emissions reduction. These projects spur innovation in design, building materials, and technology while creating new skills and expertise for tradespeople and professionals," said Thomas Mueller, president of CaGBC.
Click here to see the full list of buildings that achieved this certificate.