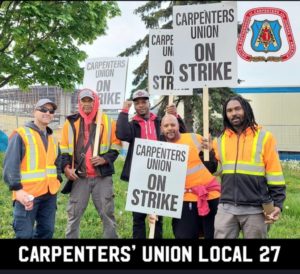 The provincewide strike of carpenters in the industrial, commercial, and institutional (ICI) sector in Ontario is now over.
Ratification votes took place and the tentative agreement was successfully passed in the vast majority of the 14 local unions involved. The "Double Majority" required to pass this support was backed by the vast majority of the membership vote.
The agreement impacts 15,000 members throughout the province in communities from the GTA to Thunder Bay.
There was a huge turnout from members of the United Brotherhood of Carpenters (UBC) from one end of the province to the other, with over 77 per cent voting in favour of the new agreement.
"We would like to thank our members for staying so strong on the picket line over the last few weeks," said Mike Yorke, Carpenters' District Council of Ontario (CDCO) president and director of public affairs and innovation. "In the long arc of the Carpenters Union history in Ontario over the last 140 years (Hamilton local 18, since 1881, and local 27 Toronto, since 1882), it's always been the members that have determined the fate and the future, for themselves, their families, and the next generation of workers. This strike and this result are in total alignment with that history."