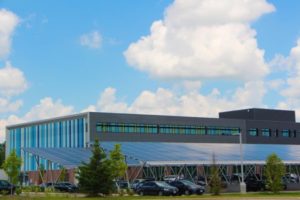 The evolv1 urban office building in Waterloo, Ont., has received a dual certification under the Zero Carbon Building Standard. The first-of-its-kind building is the second to receive the Canada Green Building Council's (CaGBC's) Zero Carbon Building Standard – Design and Zero Carbon Building Standard – Performance certifications.
The three-storey, 9662-m2 (104,000-sf), commercial, multi-tenant office building is a collaboration between the Cora Group, Sustainable Waterloo Region, the David Johnston Research + Technology Park, and anchor tenant EY. It is one of 16 participants in CaGBC's Zero Carbon Building Pilot Program.
Evolv1 operates with a highly efficient building envelope. The sustainable features include two different solar technologies: solar panels and a passive solar wall system. The building's open-loop geothermal system uses an aquifer to heat and cool the commercial space. The geothermal well is 160 m (525 ft) deep and pumps 3028 L (800 gal) per minute. Other features include a 40,000-L (10,567-gal) rainwater cistern and daylight harvesting. The building also promotes sustainability with 28 electric vehicle (EV) chargers.
Evolv1 is visually known for its vast array of 1440 Canadian-made solar panels covering the building's parking spots. There are also 754 solar panels on the roof. On a summer day, the onsite solar panels can produce more than 2000 kWh of renewable energy over what the building consumes—providing this energy back to the grid. In the winter, evolv1's passive solar wall continues to warm the entire building requiring little to no additional aid in heating.
"Cora knew it wanted to apply for the zero-carbon performance certification once one year of reliable energy data was available and took steps to achieve this goal," said Thor Neumann, the Cora Group's sr. project manager. "It was important for us to ensure the building was fully occupied during the certification period to further validate our performance."
At evolv1, those working within benefit from clean fresh air, monitored humidity levels, managed sunlight or glare, and preferred temperature control.
Evolv1 is close to achieving Leadership in Energy and Environmental Design (LEED) Platinum certification.