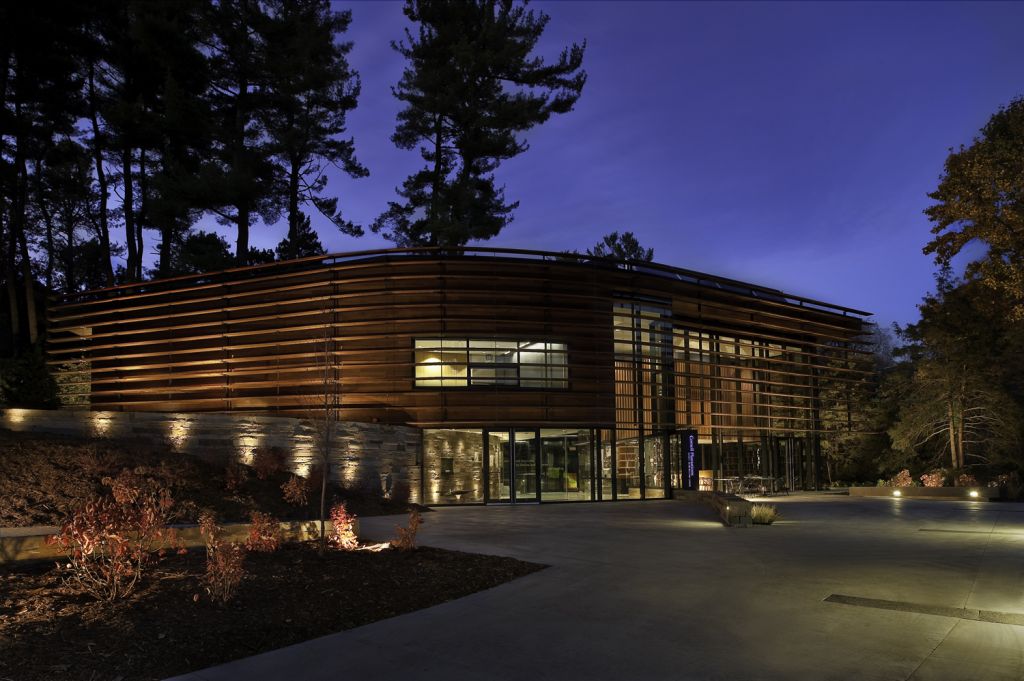 A museum, a library, and two universities' shared pharmaceutical school were among the winning projects in the Ontario Association of Architects (OAA) Celebration of Excellence Awards. For the first time, the program extended beyond the province, recognizing the work of Ontario architects outside its borders.
Selected from more than 150 submissions, 15 new buildings—including those in Montréal, Vancouver, and Ithaca, N.Y.—were honoured as leading examples of design.
A representative from OAA said this year's entries reflected numerous important aspects, including an increased effort to address sustainability criteria, and innovation when working within tight budgets.
"Best of Show" went to Cornell Plantations Welcome Center (Ithaca), designed by Baird Sampson Neuert Architects. The Michael V. and Wanda Plachta Award, an accolade for smaller projects and firms, went to Toronto's Humber College Centre for Justice Leadership by Gow Hastings Architects Inc.
This year's other winners included:
• Canadian Museum of Nature (Ottawa)–Padolsky, Kuwabara, Gagnon Joint Ventures Architects (PKG): Barry Padolsky Associates Inc. Architects, Kuwabara Payne McKenna Blumberg Architects, and Gagnon, Letellier, Cyr, Ricard, Mathieu Architectes;
• Hamilton Farmers' Market and Central Public Library (Hamilton)–Rounthwaite Dick & Hadley Architects, in association with david premi Architects;
• University of Waterloo School of Pharmacy McMaster University MGD School of Medicine (Kitchener)–Hariri Pontarini Architects, in joint venture with Robbie/Young + Wright Architects;
• Vancouver 2010 Winter Olympics Ontario Pavilion (Vancouver)–Hariri Pontarini Architects; and
• Waterloo Region Museum (Kitchener)–Moriyama & Teshima Architects in association with the Walter Fedy Partnership.
A 'People's Choice' award went to Colizza Bruni Architecture's "Front to Back Infill" project in Ottawa.