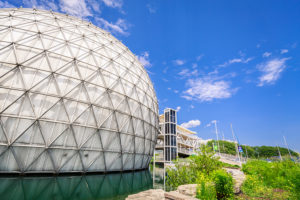 A new multi-purpose park is coming to Toronto's waterfront, Daiene Vernile, Ontario Minister of Tourism, Culture, and Sport, announced. The space, to be called the Celebration Common, will be accessible year-round, with space for open-air cultural activities, festivals, community events, and recreation on the East Island of Ontario Place.
Vernile announced DTAH will lead the design work. The award-winning architectural firm has developed many other large scale Toronto projects, including the revitalization of Queens Quay, Toronto Central waterfront, and Humber Bay Park.
"The experience and innovation that DTAH are known for will help us make the Celebration Common at Ontario Place an incredible destination," says Vernile. "The launch of the Celebration Common design process marks yet another milestone in our progress toward transforming Ontario Place into a year-round destination for everyone's enjoyment."
To read more about the announcement, click here.