Ontario and Toronto pilot plan to build school inside condo
by brittney_cutler_2 | January 25, 2022 4:09 pm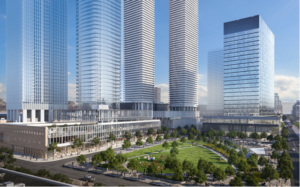 Toronto will soon be home to one of its first schools built within a mixed-use condominium.
Lower Yonge Precinct Elementary School is a collaboration between Menkes Developments, Toronto District School Board, and the Ontario government, who is providing $44 million in funding for the project.
The school will be built within a new mixed-use condominium, providing more student accommodation for the lower Yonge and waterfront neighbourhoods. Once complete, it could be replicated as an innovative solution to meet the educational needs of working families in urban and high-density environments.
Lower Yonge Precinct Elementary School is part of a provincewide investment of more than $600 million to support school and child care projects. As part of this investment, the Ontario government dedicated more than $565 million to create over 19,700 new student spaces and 1500 child care spaces at schools across the province.
"With many families living in condos and high-density urban communities, we believe their children deserve access to modern and safe schools," said Education Minister Stephen Lecce. "I am proud to deliver this progressive urban school within a high-density condominium project. This innovative partnership will provide access for young families to a state-of-the-art school in the heart of Toronto."
Endnotes:
[Image]: https://www.constructioncanada.net/wp-content/uploads/2022/01/BC_School.jpg.png
Source URL: https://www.constructioncanada.net/ontario-and-toronto-pilot-plan-to-build-school-inside-condo/
---