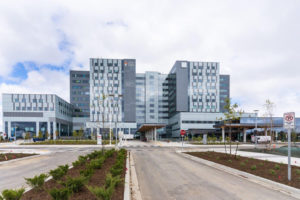 A substantial portion of the construction of Cortellucci Vaughan Hospital, the first new hospital to be built in Ontario in more than 30 years, has been completed, reported Mackenzie Health.
The milestone signals the completion of the bulk of construction on the project and the start of months of work to ensure the hospital is ready to provide patient care. When it opens in early 2021, the hospital will double access to care for the communities of Vaughan, King, and Richmond Hill, and add necessary capacity to the health care system.
Construction on the hospital broke ground in October 2016. The project was delivered by Plenary Health, along with partners PCL Constructors Canada Inc., Stantec, and Johnson Controls.
With construction substantially complete on the hospital, Mackenzie Health teams will begin turning the building into a fully functional hospital so it can safely open its doors to patients. This includes installing and testing thousands of pieces of equipment, training more than 3000 staff across both sites, and developing and simulating a number of mock patient scenarios.
"In just a few short months' time, the City of Vaughan will have its first hospital, and what a hospital it will be. Our residents will have access to Canada's first smart hospital with a team of expert nurses and physicians providing the ultimate in care," said Maurizio Bevilacqua, mayor of Vaughan. "I know the giving spirit of our community will inspire us all as we join together on the last leg of this journey towards opening day."
The provincial government has invested $1.3 billion in the project. An additional $178 million has been raised from the community to date as part of Mackenzie Health Foundation's $250 million Ultimate campaign.