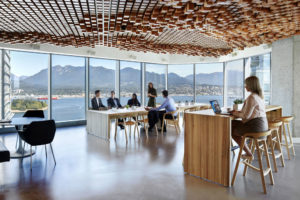 Real estate firm CBRE's Vancouver office has become the city's first WELL-certified project, thanks to efforts to prioritize environmental responsibility and occupant wellness. The firm is also responsible for four of Canada's first 10 WELL-certified projects.
WELL certification measures a building's performance across seven categories:
air;
water;
nourishment;
light;
fitness;
comfort; and
mind.
"Our decision to be first-movers in pursuing this pioneering certification reflects our belief that the office environment can, and should, add to the health of your people, and that true market leadership is about taking bold steps for the future," said Mark Renzoni, CBRE Canada's president/CEO. "Thirty years ago, we brought the open-concept office to our industry across Canada and, today, we again break new ground by creating one of the first workplaces in the country to actively promote employee health and wellness."
This is accomplished through the office's effective design, and confirmed through surveys of employees. For instance, since the office implemented a fresh air-based infiltration system (which pumps in new outdoor air whenever the need is detected) and introduced sit/stand desks, 90 per cent of employees have reported improvements in both air quality and personal energy levels.
Physical activity is also encouraged by an internal stairway connecting the office's four floors. Employees further have the option of eating lunch at a communal café rather than at their desks, reducing in-office distractions and offering advantages such as social interaction and portion control.
"The investment in human capital is top of mind for all employers. When employee salaries represent 60 to 70 per cent of overhead small investments, to create engaging workplaces can have significant impacts on talent retention and recruitment," said Ashley O'Neill, vice president of corporate strategy at the firm.
Physical activity is not the only aspect used to create an engaging workplace. The design also ensures every employee works within 7.5 m (25 ft) of a natural light source—which a Northwestern University study shows can improve sleep and quality of life—and 30 m (98 ft) of a fresh water source. Further, white noise diodes are employed to reduce distracting sounds.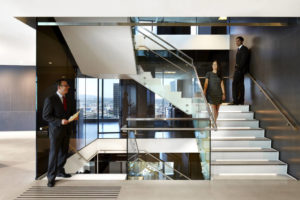 "Given that most Canadians spend over half of their waking hours in an office, employers can have a sizable impact on their employees' health by focusing on wellness in the workplace," said Loren Bergmann, CBRE's managing director of workplace strategy for Western Canada. "There is a sound business case for investing in a workplace that embraces a human-centric approach to office design. The office continues to evolve from simply being a place where your staff congregates to complete their tasks into a powerful tool for attracting and retaining the best talent. Furthermore, when you design an office space with employee wellness in mind, you're impacting 100 per cent of the people that work in that space. The ability to positively impact all of your employees far surpasses other corporate wellness programs, such as subsidized gym memberships, which only typically have a 15 per cent participation rate."