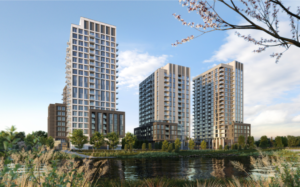 Architecture firm BDP Quadrangle's blueprint for Minto Communities GTA's North Oak Tower 3 in Oakville, Ont., shows reverence for biophilic design principles through incorporation of nature-inspired materials and a layout maximizing light and views of the outside.
North Oak Tower 3 is part of Oakvillage community proposed by Minto, and it will be built as a blend of transitional and modernist styles with an emphasis on incorporating health, wellness, community, and connections to nature.
These key themes will be highlighted using biophilic strategies throughout the building to inspire calm, such as materials with natural textures inspired by wood, and stone to give a contemporary feel, biomorphic patterns in amenity spaces, tower exterior, and suites, including an art installation wall representing local topography at the lobby entrance, which will also house planters and benches. Further, greenery is embedded in the interior and exterior amenity spaces and throughout the building landscape, linking the areas visually and physically for a cohesive experience.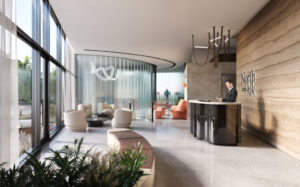 To reinforce the connection to nature, landscape architect NAK Design Strategies incorporated a landscaped boulevard running along the Athabasca Pond to ensure residents have easy access to the surrounding natural landscapes including the pond, the extensive municipal trail network and connection to nearby commercial plazas.
Tower 3 stands at 20-storeys with 239 units and continues to extend the master planned Oakvillage community, located in the growing Trafalgar neighbourhood in Uptown Oakville.