OAA reveals five selections for SHIFT2021 resiliency/architecture challenge
by sadia_badhon | April 23, 2021 7:54 pm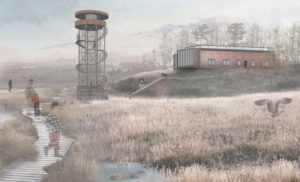 The Ontario Association of Architects[2]' (OAA's) biennial SHIFT Challenge[3] event celebrates five ideas exemplifying how architectural thinking is uniquely positioned to respond to the critical concept of resiliency.
OAA will host an event next month to recognize a selection of innovative ideas submitted by active OAA members, which push the limits of what's possible and inspire positive societal change. Members were asked to explore the intersection of architecture and resiliency, be it physical, economic, environmental, cultural, social, virtual, or spiritual.
"Whether in a literal sense or in a figurative one, the concept of resiliency involves flexibility, inherent strength, and elasticity," OAA said in a press release. "It is a quality in objects to hold or recover their shape; it is an ability in people to stay intact in the face of challenges or to rebound quickly from difficulty."
The goal for the challenge was to propose innovative, yet practical and feasible ideas advancing design thinking at scales from small spaces to entire ecosystems.
The online event, open to the public through the OAA's YouTube channel[4], begins at 4:30 p.m. on May 20 with short introductions of each of the five ideas selected by this year's jury of design and planning experts[5].
The honorees for this year's SHIFT Challenge are:
● Temporary Foreign Worker Communities[6]—this holistic design approach illustrates the possibilities for healthy, nurturing, and adaptable living spaces for those responsible for helping ensure Ontario's food supply (team led by architect Gordon Stratford);
● Mining Scars of Single Industry Communities: The Lakeshore Basin[7]—the phased remediation of a mining basin in Kirkland Lake, Ont., shows how to transform an industry relic into a sustainable and thriving community resource (team led by intern architect Holly Sutton);
● Ontario Place: On-to-our Next Adventure[8]—this plan to preserve the provincial landmark public space supports the needs of a new generation of communities (team members M.Arch candidates Erman Akyol, Victoria Cardoso, and Eugenia Wong);
● K-Town: A Future[9]—a bottom-up approach to revitalizing diaspora commercial strips in urban areas while maximizing multi-use opportunities (team led by architect Steven Fong); and
● the Mini-Midrise[10]—a new prototype of midrise buildings on single, smaller lots that reimagines how this typology can be implemented on cities' main streets (team led by architect Naama Blonder).
Endnotes:
[Image]: https://www.constructioncanada.net/wp-content/uploads/2021/04/Opener-11.jpg
Ontario Association of Architects: https://oaa.on.ca/
SHIFT Challenge: http://www.shiftchallenge.ca/
OAA's YouTube channel: https://www.youtube.com/channel/UCCTSYJzC_QbxvMoHiex_3GA
jury of design and planning experts: https://oaa.on.ca/whats-on/awards/SHIFT-2021-Awards-Jury
Temporary Foreign Worker Communities: http://www.shiftchallenge.ca/project/temporary-foreign-worker-communities/
Mining Scars of Single Industry Communities: The Lakeshore Basin: http://www.shiftchallenge.ca/project/mining-scars-of-single-industry-communities-the-lakeshore/
Ontario Place: On-to-our Next Adventure: http://www.shiftchallenge.ca/project/ontario-place-on-to-our-next-adventure/
K-Town: A Future: http://www.shiftchallenge.ca/project/k-town-a-future/
the Mini-Midrise: http://www.shiftchallenge.ca/project/the-mini-mid-rise/
Source URL: https://www.constructioncanada.net/oaa-reveals-five-selections-for-shift2021-resiliency-architecture-challenge/
---