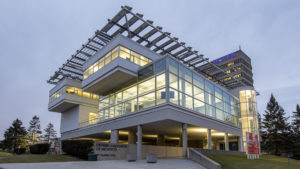 The Ontario Association of Architects (OAA), along with 14 other design and construction stakeholders, has committed to building a climate-resilient Ontario by joining Workforce 2030, a new coalition led by the Canada Green Building Council (CaGBC).
This broad, cross-sectoral coalition of employers, educators, and practitioners in the buildings sector advocates for fast-tracking the workforce needed to build a low-carbon Ontario by impacting government policy, business practice, and education, said Kathleen Kurtin, OAA president.
"The climate crisis is the defining challenge of our times and given the role the architecture profession plays in designing our built environment, it is critical we take a leadership role in ensuring our new and existing buildings can be climate-stable," Kurtin said. "It is very much in the public interest to ensure those who design, build, and maintain our buildings are knowledgeable and prepared for these new opportunities and challenges."
The CaGBC reports that building operations, construction, and materials together account for almost 30 per cent of Canada's greenhouse gas (GHG) emissions. However, the sector is collectively working toward a future where, by 2030, all new buildings must be built to zero carbon and by 2050, all existing buildings must operate at net-zero carbon.
While the world continues to confront the effects of a global pandemic, this nevertheless remains the critical time to address the climate crisis, a press release from OAA said. As Canada transitions toward a low-carbon future, the building sector will need to be at the forefront of change. Reshaping the way the built environment is thought about, designed, and constructed offers a readily available solution to reduce carbon emissions.
Architect Mae Shaban will serve as the association's inaugural representative on Workforce 2030's advisory board.
"What an exciting and opportune time for the OAA to be part of this cultural and economic paradigm shift," said Shaban, regarding the OAA's role as a foundational partner in Workforce 2030. "I am privileged to support our profession's journey as we realize our collective potential as global leaders in sustainability, the green economy, and a low-carbon and resource-efficient future."