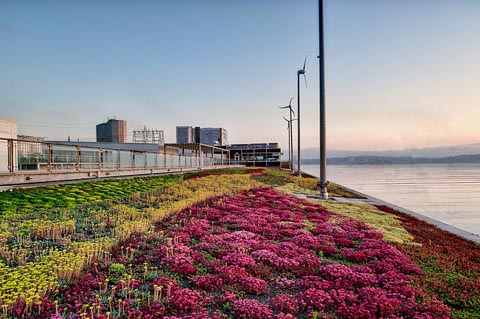 The Toronto-based Green Roofs for Healthy Cities (GRHC) says there has been a 24 per cent increase in North American vegetated roofing assembly installations in 2012.
For almost 10 years, the GRHC has been conducting the "Annual Green Roof Industry Survey" with its corporate members, who provide information such as location, building type, and square footage of their vegetated roofing assemblies. In total, 982 projects—or 519,151 m2 (5.6 million sf)—was reported, attributing to the year-over-year increases.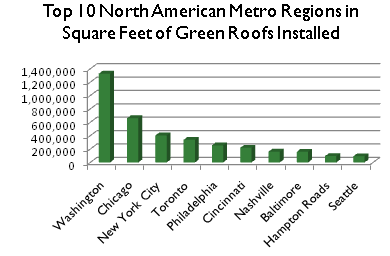 The top five Canadian cities reporting the most area of vegetated roofs installed are Toronto, Montréal, Québec City, Halifax-Dartmouth, and Edmonton. Across North America, Toronto was fourth on the list of the most installations, surpassed by Washington, D.C., Chicago, and New York City.
Overall, more extensive roofs (i.e. 152 mm [6 in.] or less of growing medium) rather than intensive (i.e. more than 152 mm of growing medium) were installed.
The industry growth has been partially attributed to public policy surrounding green roofing. For example, Toronto's Green Roof Bylaw established in 2009, requires new buildings with gross floor area exceeding 2000 m2 (21,527 sf) to employ a percentage of vegetated assemblies.
Click here for the complete survey results.