Nine projects selected for Queen's Park Picks online exhibit
by brittney_cutler_2 | October 12, 2021 12:24 pm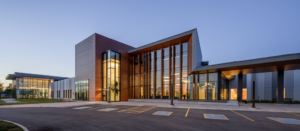 Though the Ontario Association of Architects (OAA) celebrates World Architecture Day virtually in 2021, the OAA traditionally marks this occasion with a reception for to reveal the year's Queen's Park Picks (QP Picks).
An emerging theme from this year's QP Picks was the adaptive reuse of structures—an important strategy in a multi-pronged approach to achieving climate stability. Since the greenest building is the one that is already built, adaptive reuse of existing buildings minimizes landfill waste 20 to 30 percent of which currently comes from demolition and construction. It also ensures the existing building materials—and the carbon emissions already generated to extract, manufacture, transport, and install them—are not wasted.
Nine projects were selected for this year's Queen's Park Picks online exhibit, showcasing the diversity of architecture in Ontario:
Artscape Wychwood Barns in Toronto. Architect of renovation DTAH Architects Ltd. Nominated by MPP Jill Andrew;
Barrymore's Music Hall (former Imperial Theatre) in Ottawa. Architect Walter Herbert George. Nominated by MPP Joel Harden;
Carrefour Santé d'Orléans in Ottawa. Architect HDR Architecture Associates Inc. Nominated by MPP Stephen Blais;
Chinese Railroad Workers Memorial in Toronto. Artists Eldon Garnet, Francis LeBouthillier (bronze figures). Nominated by MPP Vincent Ke;
Dominion Wheel and Foundries Company Manufacturing Complex in Toronto. Nominated by MPP Suze Morrison;
Heritage Hall in Guelph. Architect William Slater, Architect of renovation Joel Bartlett Architect Inc. Nominated by MPP Mike Schreiner;
Old Stone Mill in Delta. Nominated by the Honourable Steve Clark, MPP;
Toronto Power Generating Station in Niagara Falls. Architect Edward James Lennox. Nominated by MPP Wayne Gates; and
Whitby Central Library and Civic Plaza in Whitby. Architect Shore Tilbe Irwin and Partners (now Perkins&Will). Nominated by MPP Lorne Coe.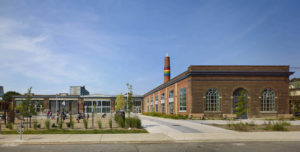 "It is wonderful to work with Ontario's MPPs to broaden public awareness and enthusiasm about the architecture that shapes all of our communities," notes OAA President Susan Speigel. "As we reflect on the contributions of those whose work has been recognized this year, it's clear heritage buildings hold a special place in the hearts of Ontarians," she adds, "and the sensitive and sensible evolution of these buildings ensures they continue to serve our communities for years to come."
Endnotes:
[Image]: https://www.constructioncanada.net/wp-content/uploads/2021/10/BC_QueensPark.png
[Image]: https://www.constructioncanada.net/wp-content/uploads/2021/10/BC_QueensPark-1.jpg
Source URL: https://www.constructioncanada.net/nine-projects-selected-for-queens-park-picks-online-exhibit/
---