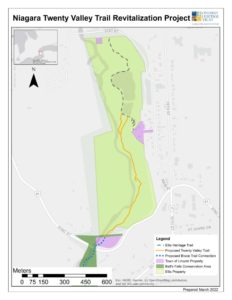 The Ontario Heritage Trust is partnering with the Town of Lincoln, the Niagara Peninsula Conservation Authority, and the Bruce Trail Conservancy on the Niagara Twenty Valley Trail revitalization project, to enhance visitors' access to the region's heritage sites.
The project will expand the existing trail network to include sites such as the Lincoln Museum and Cultural Centre, Ball's Falls Conservation Area, the trust's Ellis property, and more. The ultimate goal is to generate more local tourism and recreational opportunities for the area.
This work involves conducting a feasibility study to plan out the trail pathways, identifying areas of improvement and necessary infrastructure, and creating and installing trail signage. The final trail construction will be completed as a later phase of work. The trust's Ellis property will be closed while the feasibility study is underway. Trails along the current Twenty Valley Trail will remain open.
Once the trail revitalization project is complete, visitors hiking along the Niagara Twenty Valley Trail will be able to access a continuous 1366 km (849 mi) trail network, connecting Ball's Falls to the Ontario Heritage Trust's Ellis property, the Bruce Trail and side trails, the main street of Jordan Village, and the Lincoln Museum and Cultural Centre.
As part of the project, the trust plans to work with Indigenous partners to ensure their history and heritage are acknowledged and reflected along the trails.