Niagara outlet shoppers protected by canopies
by jclancy | October 14, 2014 3:16 pm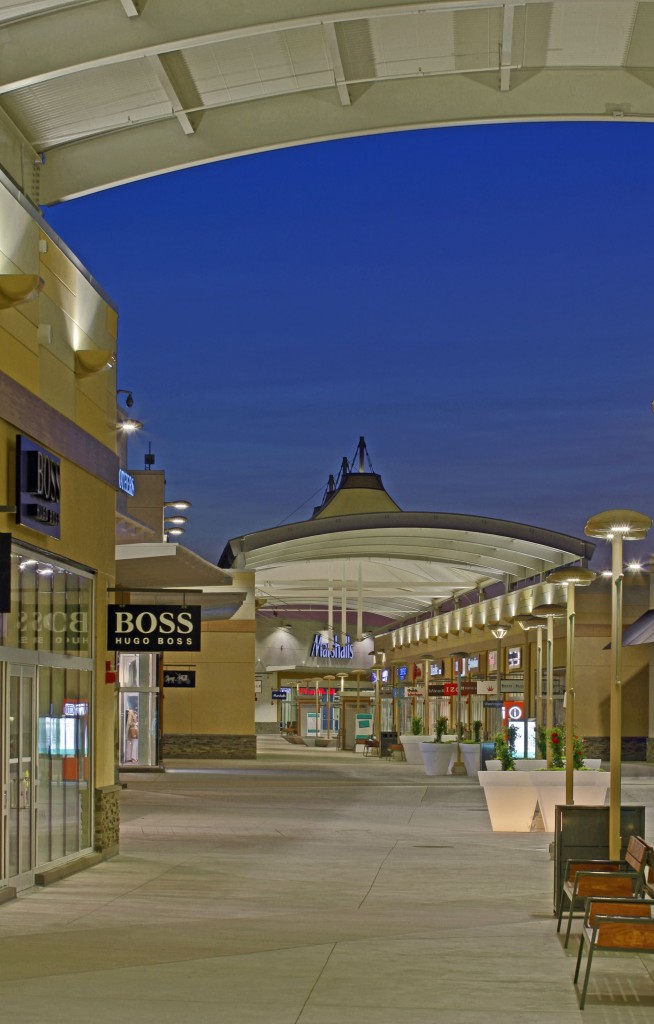 New Southwestern Ontario retail destination, the Outlet Collection at Niagara, features approximately 2136 m2 (23,000 sf) of polytetrafluoroethylene (PTFE) fibreglass membrane walkway canopies to protect shoppers from any type of weather. The membrane canopies exhibit a flying-mast cone design that provides resistance to the elements, and creates a signature look for the shopping centre.
Located beside the Queen Elizabeth Highway, less than 20 km (12.4 mi) from the U.S. border, the 323,113-m2 (520,000-sf) shopping centre in Niagara-on-the-Lake houses 102 retailers. The facility is the country's largest open-air outlet mall. Additionally, its size and development costs, approaching $200 million, make it one of the largest investments in Niagara-on-the-Lake's history.
The outlet was developed by Ivanhoé Cambridge, a shopping centre and outlet mall developer, and one of the 10 largest global investors in real estate. The developer designed the mall to attract shoppers and visitors who might have otherwise crossed the U.S. border to shop.
The area surrounding the Outlet Collection at Niagara will benefit from the increased tourism, as well as the 1500 new retail jobs created by the retailers.
Environmentally responsible facility
The project was committed to corporate responsibility and environmental sustainability; it has numerous design features throughout the property to raise awareness of green initiatives. The PTFE canopies make the open-air concept of the outlet possible, reducing energy consumption because the common areas do not need to be heated or cooled. Some of the public buildings—including guest services and the eatery—have been designed so they can be opened to the outdoors in favourable weather and, as a result, save on energy.
For water conservation, low-flow plumbing fixtures have been used in the public restrooms.
Rather than sod, sowing micro-clover—a new plant material that is shade-tolerant and drought-resistant—was used for landscaping, ensuring greener areas with lesser irrigation and maintenance requirements. All parking, lighting, and wall-mounted lights in the shopping centre employ light-emitting diodes (LEDs) in lieu of high-intensity discharge (HID) lamps, providing additional energy savings. Further, low-emissivity (low-e) glazing has been used on all storefronts to create a better building envelope.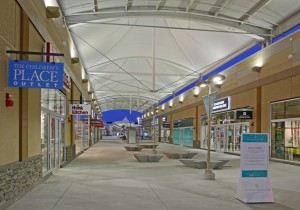 PTFE properties
PTFE is a Teflon-coated woven fibreglass membrane that is extremely durable and weather-resistant. PTFE fibreglass membranes can be installed in climates ranging from the frigid arctic to the scorching desert heat with a lifecycle exceeding 30 years in some cases. Accordingly, PTFE provides plenty of protection to shoppers in January or July.
PTFE fibreglass coating is chemically inert. The low-surface free energy of the material creates a surface which is readily cleaned by rainwater. It is also completely immune to ultraviolet (UV) radiation. This combination of inertness, thermal stability, and surface properties make the PTFE-coated fabric membrane ideal for projects requiring superior weather endurance and fire resistance.
PTFE fibreglass is additionally Cool Roof Rating Council (CRRC)-certified. During tests of its solar properties, it was discovered that PTFE fibreglass membranes reflect as much as 73 per cent of the sun's energy while holding just seven per cent on its exterior surface.
Endnotes:
[Image]: http://www.constructioncanada.net/wp-content/uploads/2014/10/Vert-1.jpg
[Image]: http://www.constructioncanada.net/wp-content/uploads/2014/10/Horiz-1.jpg
Source URL: https://www.constructioncanada.net/niagara-outlet-shoppers-protected-by-canopies/
---