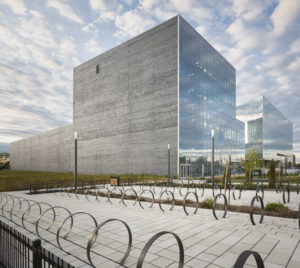 Designed by Menkès Shooner Dagenais LeTourneux, Lemay, and NFOE Architects, the new science complex at the MIL Campus of the Université de Montréal is now open.
Located at the junction of four boroughs and a city, this project seeks to revitalize an entire urban sector in Montréal with a creative, innovative neighbourhood.
Covering nearly 60,000 m2 (645,835 sf), the space hosts over 200 professors and researchers and 2000 students from the chemistry, physics, geography, and biological sciences departments.
The complex consists of the science and the teaching hub articulated on either side of a north-south axis crossing through the site: 'the blue line,' a common thread connecting neighbourhoods on each side of the railway tracks, green spaces, public places, and university buildings. The site's spatial composition is conceived as branches, spreading throughout and crossing public spaces at different levels.
A central element of the project, the library unites the two hubs and reveals multiple levels linking the ground floor to the basement. Located below the blue line, it extends along two large landscaped courtyards.
For this new urban campus, the architects sought a component that would unify it with the main campus on the north side of Mount Royal. Therefore they introduced elements of the mountain. Through the project's architectural design and perspectives, nature invites itself inside, both concretely via the agora gardens (planted with species native to Mount Royal) and other green spaces, and via its relief shaped by buildings and pedestrian connections.
A graphic silkscreen printing process, reminiscent of the marshalling yard's railway tracks, is integrated into the glass of the building envelope and contributes to the project's distinctive identity. As most spaces are destined for collaborative work, teaching, and research laboratories, the choice of large windows was essential. The glass has been selected to form a lightweight and high-performance curtain wall. The glass, combined with the lines of the silkscreen printing, improves thermal comfort and promotes a strong visual identity.
This complex is aiming for Leadership in Energy and Environmental Design (LEED) NC OR certification.