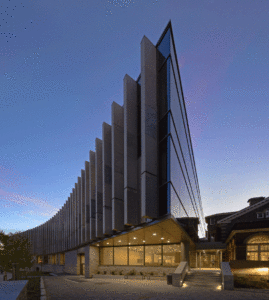 The University of Toronto's Faculty of Law has undergone an extensive renewal project, updating existing law buildings and adding 6131 m² (66,000 sf) to the campus. This work was intended to update the department's workspaces to accommodate a more modern focus on collaboration, and to unite the faculty—previously scattered across various locations—in a single building.
Perhaps the most immediately noticeable of these alterations is the addition of the new Jackman Law building, which overlooks Queen's Park Crescent. The building, designed by Hariri Pontarini Architects and B + H Architects, features eye-catching fins made of glass and nickel, which follow the curve of the street.
The building's exterior is not the only attractive feature of this addition. The project expands the law faculty's options with a new lecture hall (which will hold 210 students), as well as various seminar halls, a new commons lounge, and office and food service space.
The building also features a new atrium—the Osler Hoskin and Harcourt Atrium—intended to act as a comfortable and social collaborative space. The atrium contains a three-storey fireplace with a large seating area.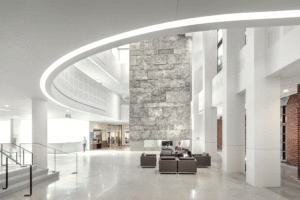 Updates to existing facilities such as the old-fashioned Bora Laskin Law Library have been performed as well. The library now admits natural light on three sides and has a two-storey reading room at its centre. As with the Jackman Law building, effort has been made to facilitate more modern, group-based work and learning, rather than the isolated style supported by the older, darker building design.
Completed this fall, the Faculty of Law building won the Canadian Architect Award of Excellence in 2013.