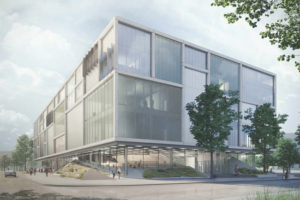 A new building planned for the University of Toronto (U of T) Scarborough will create a major student hub on the north part of the campus.
The Instructional Centre 2, or IC-2, will have nearly 18,500 m2 (1719 sf) of academic space, including 21 technology-enhanced classrooms and lecture halls, labs, as well as study spaces, lounges, and open seating areas.
Among the innovative teaching spaces is a 500-seat theatre-in-the-round auditorium where no seat is more than seven rows away from the lecture stand. Many of the other classrooms will also be flexible in their arrangement, allowing students to easily gather around tables to collaborate on class projects.
Student services will be housed on one entire floor, including the Health and Wellness Centre, Academic Advising and Career Centre, the Office of Student Experience and Wellbeing, and AccessAbility Services.
"Not only will IC-2 enhance learning opportunities through state-of-the-art classroom design, it will also create a one-stop shop for student support services on campus, which supports U of T Scarborough's vision of inclusive excellence," said Desmond Pouyat, dean of student experience and well-being at U of T Scarborough.
The five-storey building, designed by ZAS Architects in collaboration with CEBRA Architecture, features modern glass façades to create open and inspiring spaces. The building will have a large, open atrium, a series of naturally lit lounges and meeting spaces.
The ground floor will have numerous social spaces for students, including a café, student welcome areas, student lounges, informal collaboration spaces, and natural landscape beds.
IC-2, which will also be the future home of the department of computer and mathematical sciences, will be an anchor building in the north part of campus.
The environmentally friendly features of the building include a green roof and energy efficiency performance that is 40 per cent above building industry standards. It will also target Leadership in Energy and Environmental Design (LEED) Gold certification.
Construction of IC-2 is scheduled to begin in early 2021, with an opening date in late 2023.