New trucking terminal overcomes scheduling and space challenges
by carly_midgley | December 22, 2016 8:21 am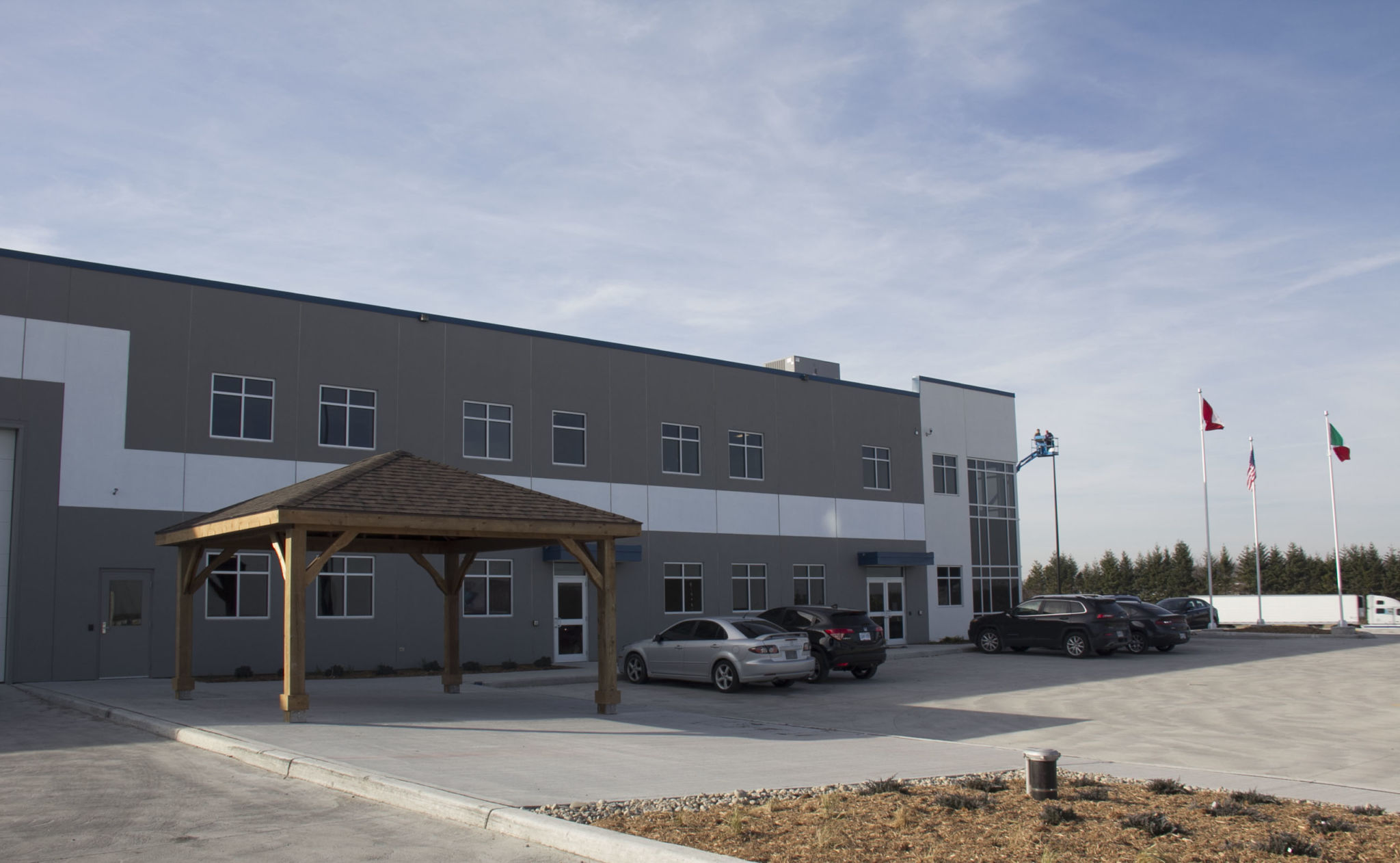 Last month, Ontario-based company Hyndman Transport opened a new trucking terminal in Ayr, Ont., with construction company Gateman-Milloy as its design-build partner. This project's 5-ha (12-acre) site accommodates a 2322-m2 (25,000-sf) building featuring 1393 m2 (15,000 sf) of maintenance shop and 1858 m2 (20,000 sf) of two-floor office space.
The terminal incorporates all departments within a single building, providing designated space for a drivers' lounge and dormitory, showers, laundry, work stations, and a loading dock. The design also features precast panels and glazed curtain wall accents admitting natural light.
To accomplish this, the team was required to overcome a variety of challenges. The project had to be completed on an extremely tight construction schedule, as Hyndman had pre-sold its original building and needed to take occupancy of the new one by November. It was also the site of the largest in-situ commercial concrete pour of 2016—a total of 3.5 ha [9 acres])—and had to meet stringent Custom Trade Partnership Against Terrorism (C-TPAT) security requirements.
Gateman-Milloy worked with Hyndman not only to execute the construction and plan the design, but also to select the project site—a key consideration, given accessibility to a major transportation route, improved space, and relocation convenience were all crucial to the company's continued smooth operation. Located off Highway 401 and 97 at exit 268, the new terminal should facilitate fleet expansion, as well as providing a connection to the United States and serving as a recruitment, training, and orientation base. It is also close enough to Kitchener—the site of the original facility—to avoid displacing existing employees.
The new terminal was well-received by Hyndman, and garnered positive feedback from the company's president, Mike Campbell.
"We wanted to offer our drivers additional resources housed in a facility that's second to none," says Campbell. "The new Ayr terminal not only allows us to provide more services to our drivers than ever before, it also provides drivers with a very convenient location."
Source URL: https://www.constructioncanada.net/new-trucking-terminal-overcomes-scheduling-and-space-challenges/
---