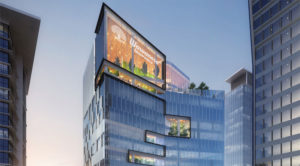 A new state-of-the-art, purpose-built office building is coming to downtown Winnipeg, Man., in the Sports Hospitality and Entertainment District across from the True North Square.
The building will serve as the Wawanesa Mutual Insurance Company's North American headquarters. It will have 19 floors and 27,871 m2 (300,000 sf) of office and collaborative spaces with views of True North Square and the city's skyline. It will also include lobby spaces infused with natural light as well as town hall spaces.
Conceptualized by Manitoba-based firm Architecture49 (A49), the tower design focuses on sustainability and employee well-being. The building will feature workplace innovations framed for employee wellness, people connectivity, collaboration, and staff engagement.
The project is scheduled for delivery in 2023.