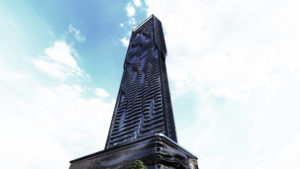 The Niagara Falls skyline is set for major changes, as a new proposal for a mixed-use tower promises to be taller than any existing building in the area and claims to be the tallest residential condo in Canada.
The claim for the tallest residential condo in Canada comes from Rocky Vacca, the lawyer representing the developer for the project, which will be named Niagara 77. However, a proposed 94-storey residential tower in Toronto could challenge this claim if it receives approval. The proposed development at 15 and 19 Bloor St. W., designed by IBI Group and developed by Reserve Properties and Westdale Properties, would feature 1,262 residential units. It is important to note the claim made for Niagara 77 pertains only to purely residential condo buildings and not to mixed-use or commercial buildings.
Developer Fugiel International Group will construct the 77-storey mixed-use tower at 5602 Robinson St., located at the western edge of Niagara Falls's tourist district. According to documents from the project's application to the city, the development will feature a unique design by Chamberlain Architects, with a six-storey podium with an undulating wave design to conceal the above-ground parking garage. The tower above will have a twisted mid-section that will house mechanical spaces and amenities for the 962 residential units both above and below.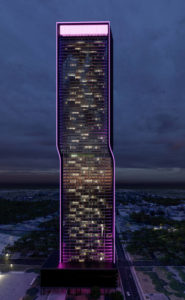 According to a report by The Deep Dive, this development follows the trend of pushing the officially allowed 30-storey height for buildings in the region. The report says the exemptions granted to the developer come with certain conditions, such as the allocation of 20 affordable units for individuals earning an average income of $80,000 per year, and implementation of green initiatives such as high-efficiency systems, green building materials, a stormwater management plan, and the addition of 50 trees. Other provisions include conducting updated pedestrian wind assessments and shadow studies.
Niagara Falls has approved other projects over the last decade, including a pair of 24- and 56-storey hotel towers at 5383 and 5385 Robinson St., and three mixed-use towers of 32, 42, and 57 storeys at 6880 Stanley Ave. Additionally, a 72-storey mixed-use tower with hotel, residential, and entertainment uses has been approved for 6609 Stanley Ave. While the Niagara 77 proposal has a higher floor count than the 6609 Stanley Ave. plan, the latter is actually taller due to differing ceiling heights. However, the 6609 Stanley Ave. site has remained inactive for years, and the new proposal could become the tallest building in Niagara Falls if it is constructed first. The current tallest building in the city is the 53-storey, 177.1-m (581-ft) north tower of the Hilton Niagara Falls, which has held the title since 2001.