New MasterFormat released
by mbuckstein | April 18, 2012 10:07 am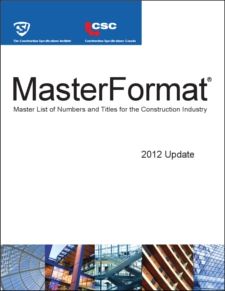 CSC and Construction Specifications Institute (CSI) have released MasterFormat 2012, updating the organizational standard to include 76 new numbers/titles, numerous revisions, and an expanded utilities division.
Used to organize project manuals, detail cost information, and relate drawing notations to specifications, MasterFormat is a list of numbers and titles classified by work results or construction practices. The new edition has added three new titles to Division 09–Finishes:
• Concrete Staining (09 61 19);
• Interior Wall Panelling (09 78 00); and
• Metal Interior Wall Panelling (09 78 13).
There have also been changes related to Theatre and Stage Equipment (11 61 00) and Operation and Maintenance of Plumbing Piping and Pumps (22 01 10).
One of the most significant additions involves the numerous titles within Division 33–Utilities. Coverage of sanitary sewerage and septic systems work has been expanded, ranging from Utility Septic Tank Drainage Field (33 36 33) and Treatment Lagoons (33 38 00) to new titles addressing septic tanks, filters, and pumps.
"These changes further refine MasterFormat, ensuring this standard filing system reflects the evolving needs of the industry and facilitates effective communication between project team members," said CSC President Bruce J. Gillham, CTR, CCCA.
The annual revision cycle process is conducted by the MasterFormatMaintenance Task Team, which includes volunteers appointed by CSC, CSI, Specification Consultants in Independent Practice (SCIP), the Canadian National Master Specifications (NMS), and other stakeholders. Its next meeting takes place in August, with results expected to be announced early next year.
For more information on the 2012 updates, visit www.masterformat.com.
Source URL: https://www.constructioncanada.net/new-masterformat-released/
---