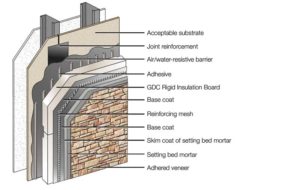 Over the years, EIFS manufacturers have introduced many new finishing materials as well as application techniques to provide additional performance and appearance possibilities. These have been relatively thin materials applied by trowel or spray in a manner similar to traditional EIFS finish coat technology. 'New look' or specialty finish appearance options now include:
textures such as ultra-smooth, fine, and coarse;
old-world effects;
metallic; and
wood.
Finishing materials are also available with enhanced performance properties such as superior fade resistance, increased hydrophobic abilities, high elongation, and improved resistance to dirt pickup.
New masonry veneer finish options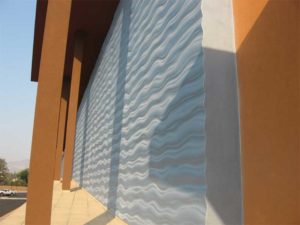 Recently, some manufacturers have started to offer systems incorporating thin veneers such as ceramic tile, masonry and natural stone, and brick as an alternative to the original EIFS finish coat. While using typical EIFS components, these systems are sometimes referred to as insulated masonry veneer systems. Key features of such applications include:
retain ci in conjunction with the option of thin veneer materials;
realize depth, 3D characteristics, and natural veneer appearance;
provide additional finish options;
meet multi-cladding design trends;
reduce detail complexity on buildings with multiple claddings;
maintain continuity of the WRB and drainage plane; and
provide a fully engineered and tested cladding system all throughout the building façade.
When a thin veneer finish is incorporated into an EIFS, the following factors are important considerations:
shear bond strength of the composite veneer, setting mortar, and reinforced basecoat when subjected to vertical shear tests;
the tensile bond strength between all exterior walls when subject to
normal loading;
joints;
freeze/thaw resistance of the composite veneer, setting bed mortar, reinforced basecoat, and insulation board;
rigidity and support provided by the backup assembly;
creep/deflection and shear properties of full-size wall assembly panels subject to vertical loads;
seismic/racking performance of the veneer system when subjected to a static lateral load parallel to the wall plane;
transverse load tests for wind load capacity of the wall assembly; and
fire performance related to endurance and flame propagation.
Thin veneer finish application
Most aspects of an EIFS application and components including the WRB, ci board, basecoat, and reinforcing mesh are similar regardless of whether the finish is a thin veneer or a traditional, textured finish coat. Systems with thin veneers may incorporate a heavier reinforcing mesh and thicker basecoat for increased strength and rigidity. Although recommended ci thicknesses may be slightly less when thin veneers are employed, the system is typically fastened to the substrate with the same basecoat adhesives that are used with EIFS and a textured finish. This well-known EIFS attachment method helps alleviate the penetrations and thermal bridging associated with mechanical fasteners, and has decades of proven performance in a very wide variety of climates. Testing and requirements for EIFS are set forth in CAN/ULC S716.1. Tests related to the basecoat adhesive performance can include water impermeability and absorption, drainage, wind load, and tensile bond strength under wet as well as dry state conditions.

Control the content you see on ConstructionCanada.net!
Learn More.