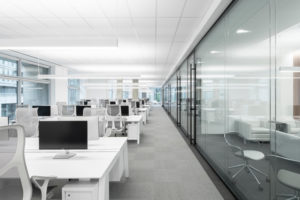 Figurr Architects Collective announced the completion of a new corporate office in downtown Ottawa's World Exchange Plaza.
This 929-m2 (10,000-sf) modern office project was contracted by for Recollective Inc., a high-tech software development company. It includes an open reception area, lounge, cafeteria, 52 individual workstations, a large high-tech conference room, four meeting rooms, and five private offices.
The Lake Partnership Inc., a local general contractor and project management company, engaged Figurr Architects Collective for the design.
Due to the volatility of market economics as a result of the pandemic, the project required a cost-savings approach during the construction phase.
The World Exchange Plaza's existing structure also had a geometry that posed some design challenges in creating the office space.
Recollective Inc. was highly involved in the design and construction, and frequently met with the design team throughout the process, in order to co-ordinate a cohesive design vision.