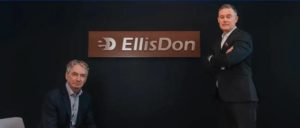 This June, Geoff Smith will be stepping down as EllisDon's president and CEO. He will be replaced by Kieran Hawe, the current chief operating officer (COO) and an employee of the company for more than 20 years.
EllisDon's board of directors, board chair Gerald Slemko, and Smith made the decision to appoint Hawe to the position. Smith will continue to serve on the board as executive chair and will retain responsibility for the company's digital and data strategy and execution, as well as its Windjammer Landing Resort in Saint Lucia. Slemko will assume the new role of deputy chair.
Smith joined EllisDon in 1981 and was named president and CEO in 1996. He was crucial in creating the company's culture of entrepreneurial enthusiasm, empowering employees to challenge the status quo and evolve EllisDon into a highly successful global construction services company.
Hawe began his career with the company in 1999, as a mechanical and electrical (M&E) co-ordinator. He was later appointed Toronto area vice-president in 2013, senior vice-president and area manager of Central Canada in 2016, and executive vice-president and COO of construction in 2019. His entrepreneurial spirit helped build a $5 billion construction operation, while managing several large multidisciplinary teams and shaping EllisDon into one of the largest construction and building services companies in Canada. Before joining EllisDon, Hawe gained global building experience in Asia, Europe, and the United States.
"Since Kieran joined the company, and more so in his current role, he has exhibited an ideal combination of humility, determination, and leadership, both through example and direction," says Smith. "He thoroughly personifies EllisDon's values and purpose, making him a natural fit to lead the next generation of EllisDon employees. I am both proud and excited for Kieran to assume the role of CEO."