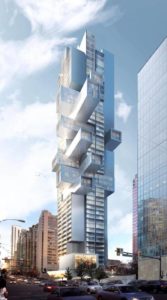 Located on one of Vancouver's main avenues, Fifteen Fifteen tower stands as a new beacon at the entrance to Vancouver from the North Shore and Stanley Park.
A system of vertically shifted apartment modules enables efficient layouts for residential units while the horizontal rotation of these projects living spaces outwards to introduce the concept of horizontal living in a slender high-rise.
According to buro-os.com, the design for this building exemplifies an ambition to reconnect architecture with the natural and civic environment, presenting a carefully crafted, distinctive silhouette that reaches out to engage the space of the city. The tower opens up, while respecting views to and from neighbouring buildings, and maximising views to the surrounding water, parks, and city.
The vertical offset of the apartment modules minimizes the footprint of the tower and liberates the ground to provide an open public plaza for residents and citizens alike. Civic amenities are embedded around the central plaza and the waterscape to engage the community.
As a special place in the city for Vancouverites who have memories of the existing office building and water cascade by architects Rhone and Iredale, the design retains the modernist Crown Life Place, while enhancing the qualities of the site and respectfully translating its original character.
Renewable energy sources at the top of the building's sculpted crown generate 100 per cent of the energy for the public amenities at the ground, creating a new model that visualizes sustainability and gives carbon-free space back to the public.