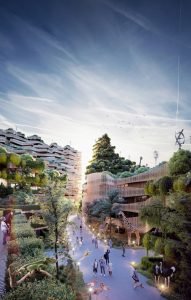 To bring regenerative, collective habitation to all scales of development, Amsterdam (Netherlands)-based architecture practice GG-loop along with engineering company Arup is developing Mitosis: a modular building system created by a parametric design tool following biophilic and user-centric design principles.
Inspiration
Mitosis is the follow-up of a multi-awarded pilot project completed by GG-loop in 2019: Freebooter, a pair of prefabricated cross-laminated timber (CLT) apartments in Amsterdam, wrapped in a parametric timber louvered façade. The building was created using biophilic principles, connecting architecture with nature to improve the life quality of people who use the building. GG-loop's ambition to bring these qualities to multiple scales has resulted in Mitosis.
The name Mitosis refers to the biological process of a single cell dividing itself into two identical daughter cells. It represents the modularity and the long-term adaptation of the system and serves as a metaphor for a flexible co-living organism where each residential unit coexists in symbiosis with all the others and its environment.
Bringing biophilic design to large-scale developments
Mitosis adopts the 14 principles of biophilic design and articulates the relationships between nature, human biology, and the design of the built environment. It builds an ecosystem where dwellers experience a unique way of living and fulfill their innate desire to reconnect with nature. Exposed to green shared areas, tiny forests, and gardens that cascade up and down the entire building, dwellers can benefit from the direct and indirect connection with nature. Health and well-being are fostered through careful material choices, flexible layouts, organic interiors, and large outdoor spaces.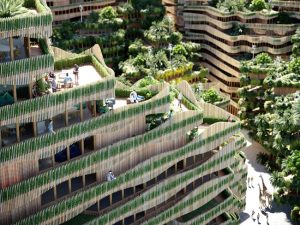 Positive footprint ecosystems
Mitosis creates regenerative ecosystems with a positive ecological footprint. It balances the technical benefits of an environmentally conscious construction with the qualities of an organic and healthy environment in which its residents coexist harmoniously.
Mitosis generates urban clusters using prefabricated timber and bio-based modules that are cost-efficient and flexible in its construction. By consciously choosing materials that capture carbon and using resources more efficiently, Mitosis constructs a net-positive built environment that produces more energy than it consumes and uses resources in a circular way.
Social cohesion
The distinct rhomboid shape of the individual design modules is integral to the functionality of Mitosis. Stacking these modules creates large areas for shared outdoor living, with each unit having at least one terrace.
Mitosis' vertical connections are placed externally to connect the units and terraces, creating a continuous ribbon of outdoor 'cloister-like' spaces, fostering a sense of openness, belonging, protection, and privacy for residents.
Mitosis' construction is organic and flexible, providing large areas of urban and vertical farming, greenhouses, wildlife corridors, and integration of habitat creation, that encourage shared outdoor activities among residents.
Project development
Mitosis is developed by parametric and building information modeling (BIM) 3D software. It generates dwelling clusters composed of prefabricated CLT modules through a complex iterative process. The optimized volume and scale of Mitosis are based on the calculation and simulation of parameters related to specific stakeholders' needs and conditions of a given site.
The volumes and internal layouts derive from the calculation and simulation of parameters related to specific conditions of the site: solar radiation, wind impact, privacy, population density, common spaces index, and vertical connections. With the parametric design tool, Mitosis explores how buildings can grow, evolve, heal and self-sustain, similar to human bodies, as well as use biological metaphors to design buildings capable of regeneration, resilience, and self-sufficiency.