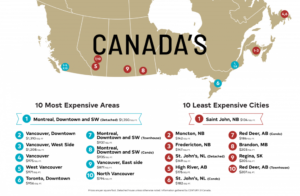 House prices across Canada have grown significantly over the past year, particularly in Atlantic Canada and more Canadian recreational locations, despite the COVID-19 pandemic.
The fifth annual "Price per Square Foot" survey has been released by Century 21 Canada. In its annual, nationwide study, the real estate firm compared the price per square foot of properties sold between Jan. 1 and June 30 this year, compared to the same period last year.
Over the past year, Atlantic Canada house prices have consistently increased with work from home becoming a viable option for many employees. Halifax has seen the biggest increase in prices, but Charlottetown, Fredericton, Moncton, N.B., and St. John's are seeing double-digit increases.
Prices in British Columbia's city outskirts saw the largest increase, with Chilliwack prices up more than 40 per cent to $4370 per m2 ($406 per sf), Delta up 38 per cent to $538 per m2 ($50 per sf), and White Rock/South Surrey up 44 per cent to $6727 per m2 ($625 per sf).
In Quebec, prices increased significantly since last year, with the price of a detached house in Montreal's downtown and southwest rising 41 per cent to $14,531 per m2 ($1350 per sf) while townhouses increased 22 per cent to $10,086 per m2 ($937 per sf) and condos 16 per cent to $10,064 per m2 ($935 per sf).
In Ontario, the prices in Owen Sound and Grey Bruce are up more than 80 per cent. Suburbs have all seen double-digit increases in prices, with the highest in those communities that are just a little outside a regular commute.
Prices in downtown Toronto condos were slightly down for the first six months, but they are slowly rising. Ottawa condos were also down year-over-year, but they are rebounding as this year continues.
House prices in the Prairies represent the slowest growing areas in the country. Winnipeg saw the biggest gains with homes up as much as 20 per cent to $3154 per m2 ($293 per sf) for a house and $2594 per m2 ($241 per sf) for a condo.
In Alberta, Red Deer and High River saw the highest house increases, with prices at $3111 per m2 ($289 per sf) and $2917 per m2 ($271 per sf) respectively. Condos in St. Albert are the other standout in Alberta real estate with a nearly 19 per cent increase to $2702 per m2 (251 per sf), which is still among the most affordable in the country.
Even Yellowknife properties have seen an increase in prices. Both houses and duplexes have seen double-digit increases while other house types have seen more subtle changes.