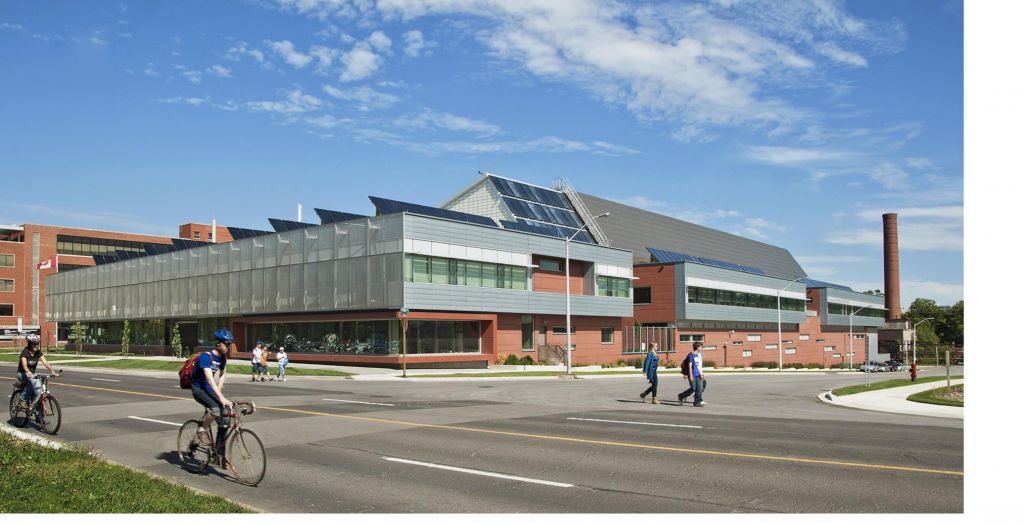 The Canadian Urban Institute (CUI) has announced the winners of its 13th annual Brownie Awards program, honouring innovation and sustainability in the country's brownfield redevelopment.
The award for Best Large-scale Project was presented to the Canmet Material Technology Laboratory in Hamilton. The project, designed by Diamond Schmitt Architects, is on a 15-ha (37-acre) site with a century of industrial history.
"The award for recognizes the opportunity to transform a brownfield site and to create something unique—a LEED Platinum research facility for heavy industry that hopefully will point the way for others," said Donald Schmitt, principal at Diamond Schmitt Architects. "It is still the exception that industrial facilities are adopting a rigorous commitment to sustainable design."
Additional awards were presented to the CIBC Pan Am and Parapan Am Athlete's Village/Canary District in Toronto for Best Overall Project. The Baggage Building Arts Centre at Prince Arthur's Landing in Thunder Bay, Ont., was awarded the Best Small-scale Project.
Winners in the seven major categories are:
Legislation, Policy, and Program Development: "From the Ground Up–Assessing the Risks and Maximizing the Benefits of Gardening on Urban Soils" (Toronto);
Sustainable Remediation Technologies and Technological Innovation: Thorold Park Redevelopment (Thorold, Ont.);
Financing, Risk Management, and Partnerships: Downtown/West Harbourfront Remediation Loan Pilot Program (Hamilton);
Excellence in Project Development–Building Scale: Nova Scotia Power Corporate Headquarters (Halifax);
Excellence in Project Development–Neighbourhood Scale: Whitehorse Waterfront Revitalization (Whitehorse, Yukon);
Communications, Marketing, and Public Engagement: City of Langley Brownfield Redevelopment Strategy (Langley, B.C.); and
Individual Achievement: Bonnie Prior, executive director, Appraisal Institute of Canada and past-president of the Canadian Brownfield Network (CBN).
Awards were distributed at the Canadian Brownfields conference gala held in Toronto October 23.