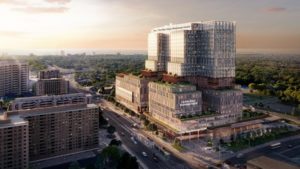 Trillium Health Partners (THP) and Trillium Health Partners Foundation (THPF) received a $105 million donation to create a new, more advanced hospital and expand and redevelop Queensway Health Centre.
The new Peter Gilgan Mississauga Hospital will replace an existing 62-year-old facility. Additionally, the money donated from the Peter Gilgan Foundation will fund a new patient tower at Queensway Health Centre, which will be home to needed complex care and rehabilitation services at THP.
These projects represent the largest capital build in Canada's history and will add more than 600 beds across the organization, for a total of almost 2000 beds, to accommodate the growth in the community—making THP the largest hospital in Canada.
"We want to thank Peter Gilgan and The Peter Gilgan Foundation for this historic donation that will transform health care for everyone living in the west Greater Toronto Area and help set a new standard of care for our country," said Caroline Riseboro, president and chief executive officer of THPF.
Advance work is already underway at the new hospital site, with construction expected to start in 2025. The Queensway Health Tower construction is expected to start in 2024.