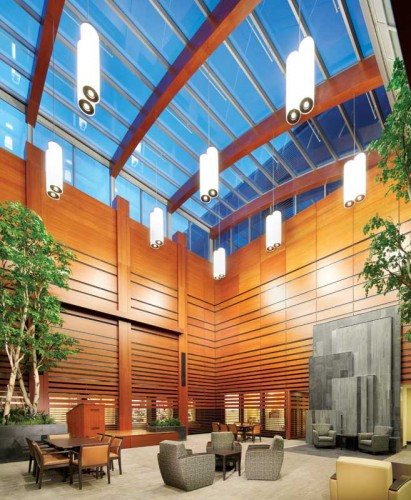 An underused existing light well at the Farncombe Family Digestive Health Research Institute provided the jump-off point for an atrium that serves as a science café, auditorium, and workshop venue.
Located at McMaster University in Hamilton, the atrium is part of a larger facility containing a centre where researchers and other staff work on clinical trials and epidemiological studies in understanding the impact of digestive health and nutrition on disease across the lifespan.
Construction of the $4.7-million, 1600-m2 (17,222-sf) facility involved working within an existing building over occupied hospital space that included research labs with ongoing delicate experiments and sensitive equipment.
Care had to be taken not to disturb hospital operations, given the asbestos-intense environment in which the work was being done. The sensitive setting also ruled out the use of water fountains and real plants, although the project's design objection was to create an oasis of sorts. Instead, the design team turned to artificial trees and glass sculptural elements inspired by natural waterfalls.
Surrounded by research laboratories, the two-storey atrium is the heart of the institute and the building's focal point; it was designed to give the facility an identity.
To do so, wood is used throughout, helping to create a warm and inviting environment. A wood soffit welcomes visitors to the atrium from the hospital corridor, along with a bench, floor, and sliding panel all in wood. A wood-clad stage is also part of the entranceway.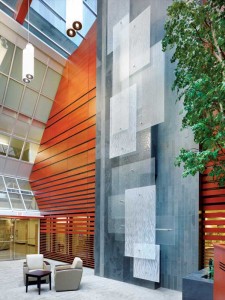 Furnished with comfortable seating for individuals or groups, the atrium provides a quiet space for private study. The curving skylight is supported by wood-clad beams, while the previous exterior walls are covered by a wood screen featuring horizontal slots providing acoustical performance. The slots also allow controlled views from the surrounding labs into the public space.
In addition, the atrium doubles as an auditorium for weekly seminars and a workshop venue accommodating 80 to 100 people. It features audio-visual (AV) projection and sound systems, as well as lighting and shading controls.
"The culture of communication and collaboration is vital to the success of any research group, and particularly one that encompasses so many different scientific disciplines," said David Clusiau, design principal for NORR, the architecture firm on the project. "The atrium was designed primarily to promote communication and to foster interdisciplinary research."
Farncombe was recognized by the Ontario General Contractors Association (OGCA) with a 2011 Excellence in Buildings Award.

Control the content you see on ConstructionCanada.net!
Learn More.