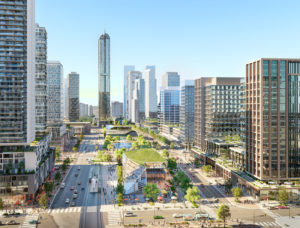 Oxford Properties Group and Alberta Investment Management Corporation (AIMCo) unveiled plans for the transformation of 53 ha (130 acre) around the Square One Shopping Centre in Mississauga, Ont., into a 1.6 million m2 (18 million sf), master-planned, mixed-use neighbourhood called Square One District.
Swaths of parking lots will be converted into a community comprising more than 18,000 residential units, a transit mobility hub, community buildings, parks, green spaces, and forward-thinking office space. All of this will be anchored by Square One Shopping Centre.
Square One District is anticipated to be a multi-phase, multi-decade project that allows the community to grow in lockstep with the needs of the City of Mississauga and its residents.
The first phase of housing will include the construction of two residential towers with 402 rental apartments and 575 condominiums. The rental residences and the condominiums of Square One District are 36 and 48 storeys respectively with construction set to start this summer.
"Square One District is a bold vision to repurpose underutilized land in the heart of downtown Mississauga to create an entirely new mixed-use urban community," said Eric Plesman, executive vice-president of Oxford Properties. "It will be a place where business, life, and leisure can come together as one."
The heart of Square One District is the strand, a pedestrian-friendly, connected civic space anchored by a transit hub and a community park. With its residential, retail, and office uses alongside public amenities, Square One District aligns with the city's vision to create a vibrant downtown core for Mississauga.
Office space will play an important role in turning Square One District into a large-scale, mixed-use project. The new office towers will be the first commercial development in downtown Mississauga in a generation.