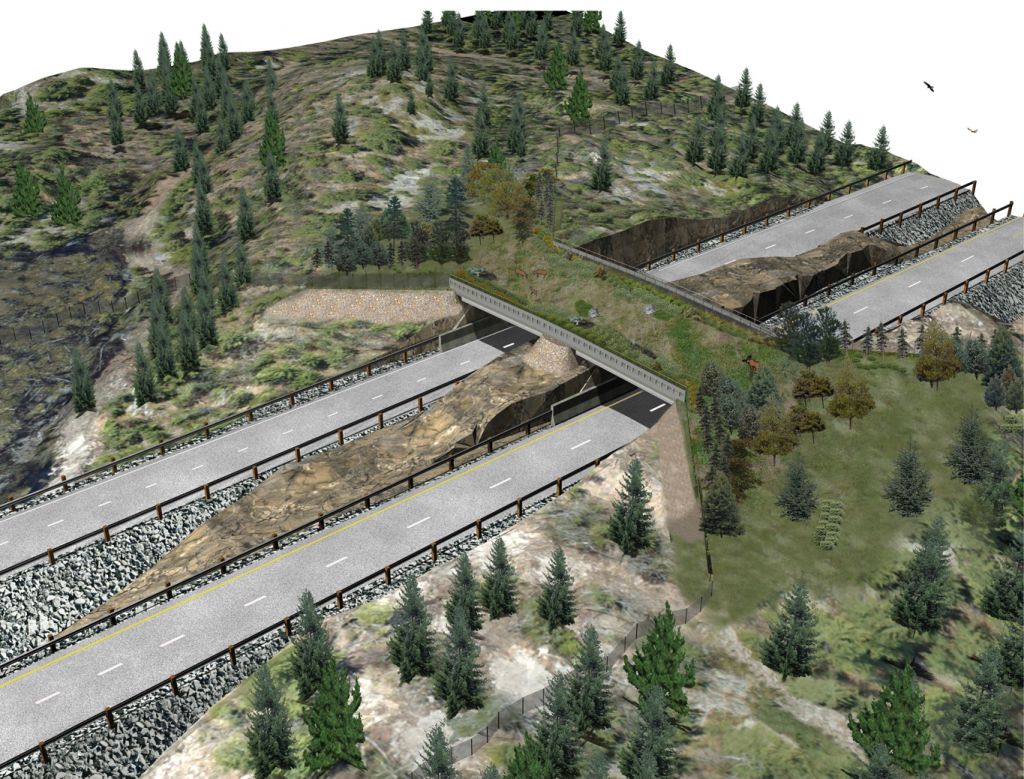 The first wildlife bridge in Ontario is being constructed across the new section of Highway 69 to provide a safe crossing for animals across the roadway.
The Ontario Ministry of Transportation (MTO) is building its first four-lane overhead 'eco-passage,' with construction and landscaping expected to be complete in the summer of 2011.
The structure is located north of the future Highway 637 interchange, approximately 35 km (22 mi) south of Sudbury. The 30-m (98.4-ft) wide wildlife bridge is in an area where several large animal collisions have been recorded. Wildlife that typically cross this stretch of the highway are white-tailed deer, moose, elk, and black bears.
MTO's Kristin Franks said the need for a special wildlife crossing in this vicinity was identified during the Route Planning and Preliminary Design of the four-lane initiative in this area.
"Funnel fencing will guide wildlife to use this structure to cross the highway and will also prevent wildlife from accessing the highway at other areas," Franks told Construction Canada Online. "The crossing structure will be landscaped to closely match the surrounding environment. Landscaping will include brush piles to provide cover for wildlife. In addition, concrete barrier walls will limit the impact of noise and light from oncoming vehicles."
The structure is made of concrete, with its location using the existing rock cuts to construct the bridge abutments and incorporating land topography for the bridge approaches to the over-crossing. The structure's deck will feature soil overburden and vegetative plants.